The Global Lithium-Ion Battery Market is Expected to Explode to $115 Billion By 2030.2
Prices of lithium carbonate, fueled by battery demand, are currently up 401% year-on-year and 320% since the beginning of this year.3
Palladium's price soared when it found a new home in cars catalytic converters, it's now more precious than gold. Could Tellurium be next? 4
Every Metal Has Its Day
Tellurium is still a relatively unknown metal that seems to have found a new and lucrative home, Lithium–Tellurium batteries, one could expect both demand and price for this rare metal to skyrocket.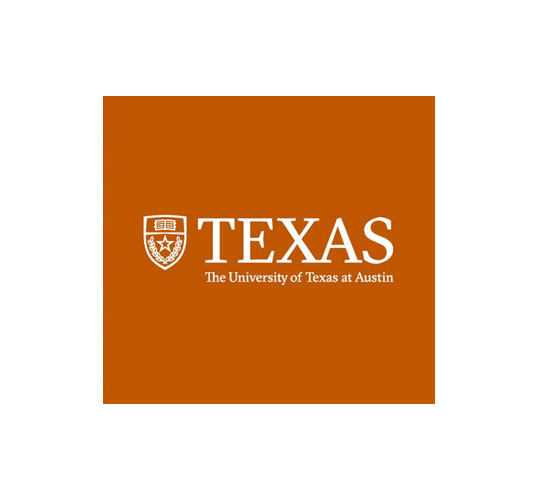 The research team at The University of Texas at Austin has found adding a layer of Tellurium on top of the lithium metal inside the battery extends the battery's lifespan by 400%.1
Current Lithium-ion Battery Technology Not Making The Grade
Since Sony Corporation released the first rechargeable lithium-ion battery in 1991 scientists have been trying to overcome their shortcomings, and improve their performance:
Lithium-ion batteries are fragile and require circuitry to stop them from overcharging and exploding, causing many fires and deaths.
Besides this major safety concern, current Lithium-ion batteries degrade quickly and last only two to three years after manufacturing.
They are sensitive to high temperatures and if the battery is completely discharged, it can no longer be recharged.
Also, if the "separator" gets damaged, it can burst into flames.5
Big Names Are Feeling The Drain
No industry using Lithium-ion batteries is immune to their safety hazards.6,7,8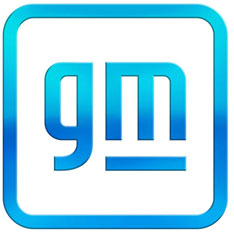 In August 2021, General Motors announced that it was recalling 142,000 Chevy Bolts — every Bolt ever made — because of fire risk.
Hyundai Motor's recall of their Kona EV cars due to safety concerns cost them $854 million.

The Samsung recall of their Galaxy 7 cell phone cost the company $5.3 billion due to their tendency to explode and cause fires.
But Now There Appears to Be a Solution.
Recent scientific breakthroughs have discovered that the addition of a rare metal called Tellurium overcomes the current limitations of today's Lithium-based battery technology.
Tellurium (Te) is to Lithium what Lithium was to batteries, a GAME CHANGER.  
"The demand for Tellurium has never been greater." 9
-


John Keller, P.GEO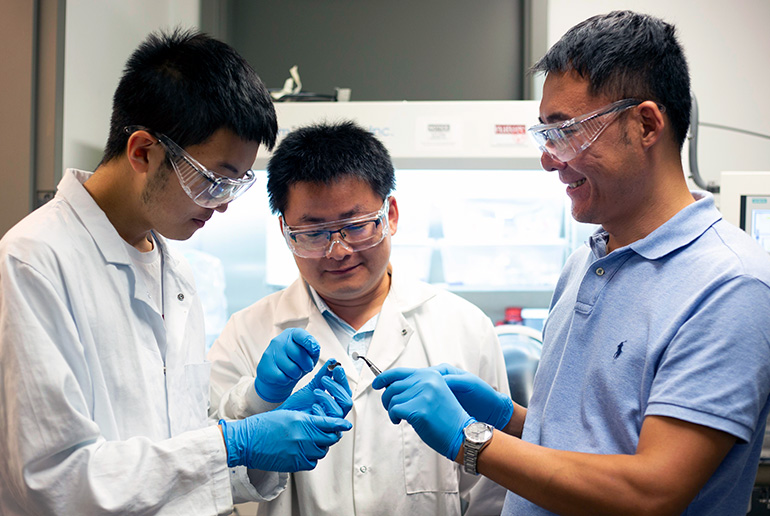 University of British Columbia Okanagan engineering students Peter Zhao and Huibing examine the component of a tiny Lithium-Tellurium battery along with assistant professor Jian Liu (right).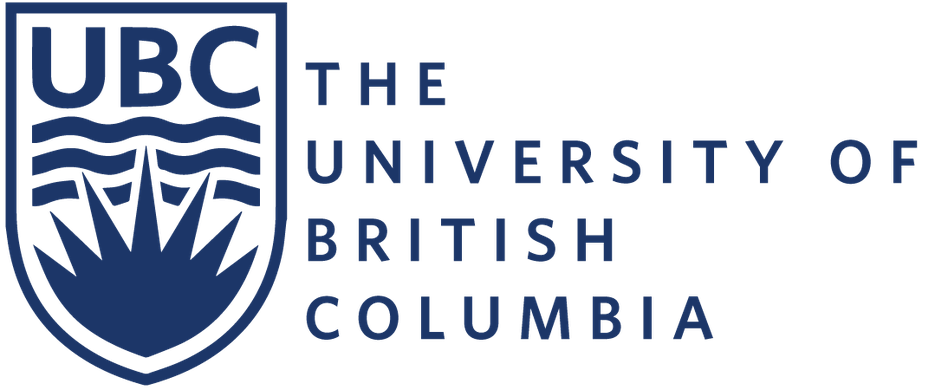 Jian Liu, a researcher at The University of British Columbia explained the inclusion of Tellurium could improve safety since current liquid electrolytes in standard lithium-ion batteries are flammable.9
"Due to its high density, Tellurium provides a much higher volumetric capacity than other materials." 5
-


Jian Liu, UBC
Singapore's Agency for Science, Technology and Research has demonstrated that electrodes made from Tellurium can improve the energy storage and power output of rechargeable lithium-ion batteries.10
A Tellurium First for North America
Tellurium is a rare metal often sourced as a by-product of copper with the largest global supplier being China. Now, however, there is a company in North America solely focused on its recovery, First Tellurium Corp. (CSE:FTEL, OTC:GODYF).
First Tellurium is uniquely positioned to benefit from this scientific breakthrough as it is one of the only companies in the world purely dedicated to Tellurium exploration with their two resource-rich Tellurium projects:
The Klondike Tellurium-silver-gold property in Sagauche County, Colorado
and the polymetallic Deer Horn Property in BC, Canada.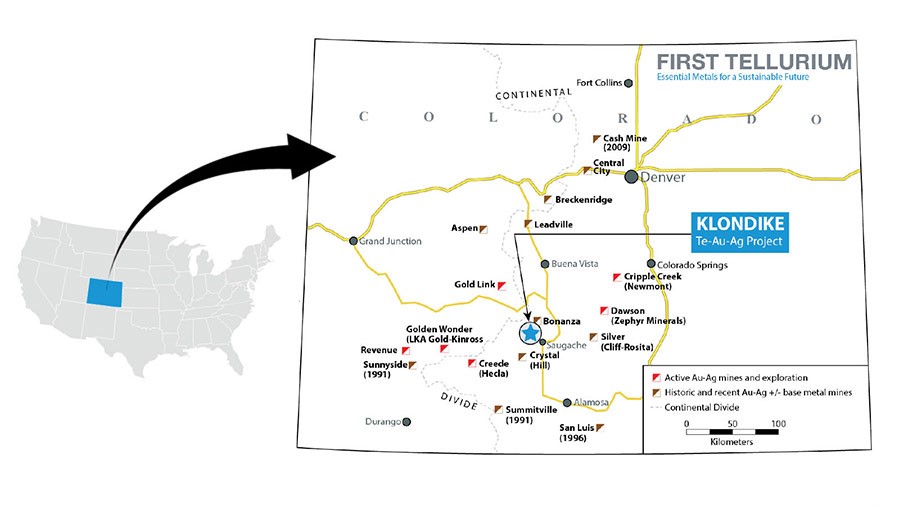 Its Klondike project would be the very first dedicated Tellurium mine in the U.S… and the second in production world-over.11
What The Experts Are Saying:
Industry professionals rave about First Tellurium's projects.
Mr. John Keller, a veteran geologist with 23 years of experience in the minerals exploration and mining industry as an exploration geologist and exploration manager, originally assessed the Klondike project in late 2006. Keller stated:
"The Klondike property has by far the highest Tellurium grades in rock samples of the hundreds of prospects and mines I examined in the US and Canada from 2006 to 2011… Some samples at Klondike were an order of magnitude higher in "Te" grade than any others we collected in the U.S. or Canada." 9
Then, there is Mr. Jim Guilinger whose exploration and development experience spans more than 20 years involving various investigations consulting projects for Tellurium throughout the USA and the World. He states:
"Having spent a great deal of my life exploring and reporting on Tellurium, including a worldwide Tellurium resource and market review, I am most impressed with the properties held by First Tellurium." 12
First Tellurium Strategically Positioned to Benefit from President Biden's Trillion-Dollar Infrastructure Bill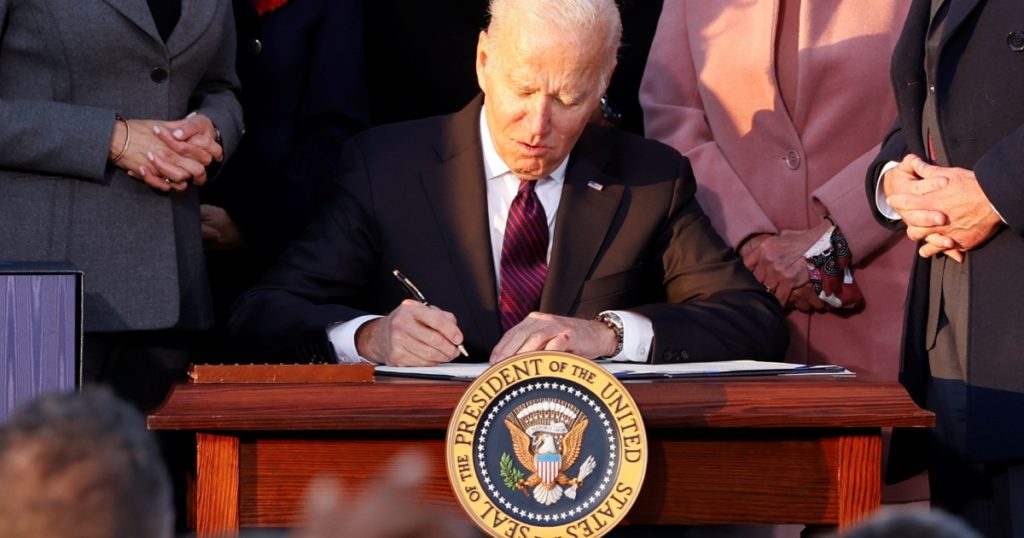 Biden Executive Order will put battery materials at heart of US climate technology 'leadership'. 13
In a response to The Bill's passage, Biden said: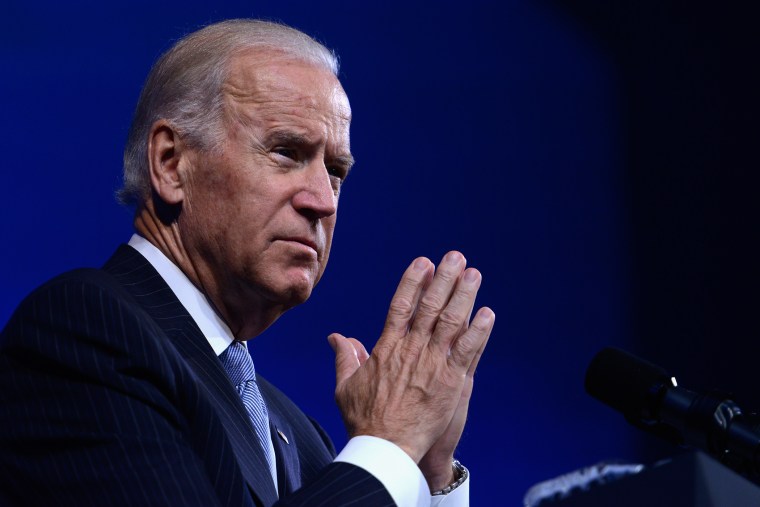 "We will get America off the sidelines on manufacturing solar panels, wind farms, batteries, and electric vehicles to grow these supply chains, reward companies for paying good wages and for sourcing their materials from here in the United States." 14
A substantial part of the Biden Infrastructure Bill is to further develop a local supply of raw materials and rely less on imports from countries like China.
"As we take action to tackle the climate crisis, we know that will lead to a large demand for new energy technologies like electric vehicle batteries. By identifying supply chain risks, we can meet the President's commitment to accelerate U.S. leadership of clean energy technologies" 15

Only First Tellurium Corp. (CSE:FTEL, OTC:GODYF) Is Solely Focused On This New Bonanza
6 Reasons to take a closer look:
Demand for Tellurium has never been higher with the potential to revolutionize energy storage
As reported in an earlier article, Tellurium is also at the heart of a breakthrough that could fuel one of mankind's most sensational advances in solar technologies.
They are the only dedicated exploration company focused on Tellurium in North America
First Tellurium has some of the richest Tellurium assets ever surveyed
Recently onboarded multiple industry experts and crucially backed with by an accomplished CEO
First Tellurium has successfully completed multiple financing rounds
Can Tellurium Lithium-ion Batteries Save the World
Governments globally are looking to lower their carbon footprint and become less reliant on fossil fuels. The shift is to green renewable energy. Solar, wind and wave technologies are a focus. Once these technologies generate the power it still needs to be stored and current battery technology is not keeping pace.
Electric Vehicles EV are leading the charge for a greener environment but are still hampered by charging times and driving distances.  Global EV sales increased 80% in 2021 as automakers including Ford, GM commit to zero emissions. 15
Many of these global initiatives would be well served by a safer battery that stores more power, and lasts up to 4 times longer. Many think the solution is a Tellurium Lithium-ion battery.
With an increased life, quicker charging and more power, it's possible that new battery technology augmented with the addition of Tellurium could be what leads the way to a safer cleaner planet.
FIRST TELLURIUM CORP. (CSE:FTEL, OTC:GODYF) could be at the right place, at the right time, and is definitely worth a closer look.

1. https://www.machinedesign.com/materials/article/21130846/a-layer-of-tellurium-boosts-lithiumions-operational-life
2. https://www.prnewswire.com/news-releases/global-lithium-ion-battery-market-size-could-exceed-115-billion-by-2030-as-demand-is-booming-301341685.html
3. https://tradingeconomics.com/commodity/lithium?user=analyst22779
4. https://www.bbc.com/news/business-51171391
5. https://www.ionenergy.co/resources/blogs/battery-safety/
6. https://www.washingtonpost.com/technology/2021/12/30/chevy-bolt-gm/
7. https://europe.autonews.com/automakers/hyundai-will-replace-battery-systems-900m-ev-recall
8. https://eu.usatoday.com/story/tech/2016/10/14/samsung-note-7-recall-cost-least-53-billion/92040942/
9. https://www.globenewswire.com/news-release/2021/11/23/2339716/0/en/First-Tellurium-Recruits-First-Solar-s-Previous-Exploration-Manager-and-Veteran-Geologist-John-Keller-to-Advisory-Board.html
10.https://www.asiaresearchnews.com/html/article.php/aid/9145/cid/2/research/technology/the_agency_for_science%2C_technology_and_research_%28a%2Astar%29/tellurium_electrodes_boost_lithium_batteries%0A.html
11. https://earth.stanford.edu/news/critical-minerals-scarcity-could-threaten-renewable-energy-future#gs.euifcm
12. https://www.globenewswire.com/news-release/2021/12/07/2347284/0/en/Former-First-Solar-Tellurium-Explorer-James-Guilinger-Joins-First-Tellurium-s-Team.html
13. https://www.energy-storage.news/biden-executive-order-will-put-battery-materials-at-heart-of-us-climate-technology-leadership/
14. https://www.whitehouse.gov/briefing-room/statements-releases/2021/11/06/statement-by-president-joe-biden-on-the-house-passage-of-the-bipartisan-infrastructure-investment-and-jobs-act/
15. https://www.utilitydive.com/news/global-ev-sales-rise-80-in-2021-as-automakers-including-ford-gm-commit-t/609949/
IMPORTANT NOTICE AND DISCLAIMER
This website is owned and hosted by Market Tactic Media Ltd. Articles appearing on this website should be considered paid advertisements. Market Tactic Media Ltd. and its owners, managers, employees, and assigns (collectively "the Website Host") is often paid by marketing companies to host websites on which articles profiling public companies are published. The Website Host has not been compensated by any of the profiled companies. The Website Host's compensation for articles appearing on this website is as follows:
The Website Host has been paid approximately $500 per week while the advertisement campaign is active by Command Marketing as compensation to host the article profiling First Tellurium Corp.
SHARE OWNERSHIP
The Website Host does not own any shares of any profiled First Tellurium Corp. and has no information concerning share ownership by others of any profiled First Tellurium Corp. The Website Host cautions readers to beware that third parties, profiled companies, and/or their affiliates may liquidate shares of the profiled companies at any time, including at or near the time you read the articles on this website and this has the potential to hurt share prices. Frequently companies profiled in such articles experience a large increase in volume and share price during the course of investor awareness marketing, which often ends as soon as the investor awareness marketing ceases.
NO SECURITIES OFFERED
The articles on this website are not, and should not be construed to be, offers to sell or solicitations of an offer to buy any security. Neither the articles on this website nor the Website Host purport to provide a complete analysis of any First Tellurium Corp. or its financial position. The Website Host is not, and does not purport to be, a broker-dealer or registered investment adviser. The articles on this website are not, and should not be construed to be, personalized investment advice directed to or appropriate for any particular investor. Any investment should be made only after consulting a professional investment advisor and only after reviewing the financial statements and other pertinent corporate information about First Tellurium Corp. Further, readers are advised to read and carefully consider the Risk Factors identified and discussed in the profiled First Tellurium Corp's SEC and/or other government filings. Investing in securities, particularly microcap securities, is speculative and carries a high degree of risk.
INDEMNIFICATION/RELEASE OF LIABILITY
By reading articles on this website, you acknowledge that you have read and understood this disclaimer, and further that to the greatest extent permitted under law, you release the Website Host, its affiliates, assigns and successors from any and all liability, damages, and injury from articles appearing on this website. You further warrant that you are solely responsible for any financial outcome that may come from your investment decisions.
LINKS TO THIRD PARTY WEBSITES
This website enables users to link to external websites not under the control of The Website Host. The Website Host has no control over the nature, content, and availability of those sites. The inclusion of any links is not intended as, and should not be construed as, a recommendation or endorsement of the content or views expressed on such external websites. The Website Host expressly disclaims any representation concerning the quality, safety, suitability, or reliability of any external websites and the content and materials contained in them. It is important for users to take necessary precautions, especially to ensure appropriate safety.
INTELLECTUAL PROPERTY
The Market Tactic is the Website Host's trademark. All other trademarks used in this communication are the property of their respective trademark holders. The Website Host is not affiliated, connected, or associated with, and is not sponsored, approved, or originated by, the trademark holders unless otherwise stated. No claim is made by the Website Host to any rights in any third-party trademarks.
FORWARD LOOKING INFORMATION
This document contains forward-looking information and forward-looking statements, within the meaning of applicable Canadian securities legislation, (collectively, "forward-looking statements"), which reflect expectations regarding First Tellurium Corp. future growth, future business plans and opportunities, expected activities, and other statements about future events, results or performance. Wherever possible, words such as "predicts", "projects", "targets", "plans", "expects", "does not expect", "budget", "scheduled", "estimates", "forecasts", "anticipate" or "does not anticipate", "believe", "intend" and similar expressions or statements that certain actions, events or results "may", "could", "would", "might" or "will" be taken, occur or be achieved, or the negative or grammatical variation thereof or other variations thereof, or comparable terminology have been used to identify forward-looking statements. These forward-looking statements include, among other things, statements relating to: (a) revenue generating potential with respect to First Tellurium Corp. industry; (b) market opportunity; (c) First Tellurium Corp. business plans and strategies; (d) services that First Tellurium Corp. intends to offer; (e) First Tellurium Corp. milestone projections and targets; (f) First Tellurium Corp. expectations regarding receipt of approval for regulatory applications; (g) First Tellurium Corp. intentions to expand into other jurisdictions including the timeline expectations relating to those expansion plans; and (h) First Tellurium Corp. expectations with regarding its ability to deliver shareholder value. Forward-looking statements are not a guarantee of future performance and are based upon a number of estimates and assumptions of management in light of management's experience and perception of trends, current conditions and expected developments, as well as other factors that management believes to be relevant and reasonable in the circumstances, as of the date of this document including, without limitation, assumptions about: (a) the ability to raise any necessary additional capital on reasonable terms to execute First Tellurium Corp. business plan; (b) that general business and economic conditions will not change in a material adverse manner; (c) First Tellurium Corp. ability to procure equipment and operating supplies in sufficient quantities and on a timely basis; (d) First Tellurium Corp. ability to enter into contractual arrangements; (e) the accuracy of budgeted costs and expenditures; (f) First Tellurium Corp. ability to attract and retain skilled personnel; (g) political and regulatory stability; (h) the receipt of governmental, regulatory and third-party approvals, licenses and permits on favorable terms; (i) changes in applicable legislation; (j) stability in financial and capital markets; and (k) expectations regarding the level of disruption as a result of COVID-19. Such forward-looking information involves a variety of known and unknown risks, uncertainties and other factors which may cause the actual plans, intentions, activities, results, performance or achievements of First Tellurium Corp. to be materially different from any future plans, intentions, activities, results, performance or achievements expressed or implied by such forward-looking statements. Such risks include, without limitation: (a) First Tellurium Corp. operations could be adversely affected by possible future government legislation, policies and controls or by changes in applicable laws and regulations; (b) public health crises such as the COVID-19 pandemic may adversely impact First Tellurium Corp. business; (c) the volatility of global capital markets; (d) political instability and changes to the regulations governing First Tellurium Corp. business operations (e) First Tellurium Corp. may be unable to implement its growth strategy; and (f) increased competition. Except as required by law, the Website Host undertakes no obligation to update or revise any forward-looking statements, whether as a result of new information, future event or otherwise.
HISTORICAL INFORMATION
Any graphs, tables or other information demonstrating the historical performance or current or historical attributes of First Tellurium Corp. or any other entity contained in this document are intended only to illustrate historical performance or current or historical attributes of First Tellurium Corp. or such entities and are not necessarily indicative of future performance of First Tellurium Corp. or such entities.