FOLLOW THE BIG MONEY – From Oprah to Jay Z, to Natalie Portman, Howard Schultz, Leonardo DiCaprio and Blackstone… some of the world's wealthiest are fueling the plant-based vegan revolution.
TIME TO JUMP ON BOARD –Shares are soaring for companies driving this huge new trend of plant-based food and "dairy" products.
MARKET POWER – This companies rapid rise in popularity wasn't an isolated event. Driven by hungry consumer demand, this $20-billion market is forecast to grow 156% by 2028.
SET TO MEET THIS DEMAND – A Newcomer to this industry this companies award-winning products are already in Whole Foods. And its state-of-the-art 25,000 sq foot processing center is set to open, right as demand continues to hit new peaks.
Life sails on regardless of us.
Grocery stores, once the bastion of chemically grown, pesticide-sprayed, Roundup-ready fruits and vegetables, are now brightly lit shrines to clean organic crops.
Corn-fed beef is being replaced by grass-fed beef is being replaced by Impossible Burgers, made from the root nodules of genetically modified soybean plants1
Free range chicken dominates the poultry and egg aisles.
Milk is fast becoming "mylk" – vegan, plant-based non-dairy mylk.
What could be the best creamy yogurt on the planet is made from cashews, not cows.
Now, investors are catching on.
They've discovered that this huge disruption in the food chain is not caused by marketing or slick advertising…
This sudden disruption is due to massive and growing consumer demand.
Demand Is The Key To Every Winning Investment Strategy
And that's why trend investors need to take an in-depth look now at this up-and-coming company.
This company has award winning products that are part of what's currently a fast expanding $20 billion global alternative dairy revolution.2
And it's not hyperbole to call the alternative dairy market a "revolution."
Grand View Research expects this company's alt-dairy sector to grow to more than $52 billion by 2028 — a 156% leap from today's $22 billion.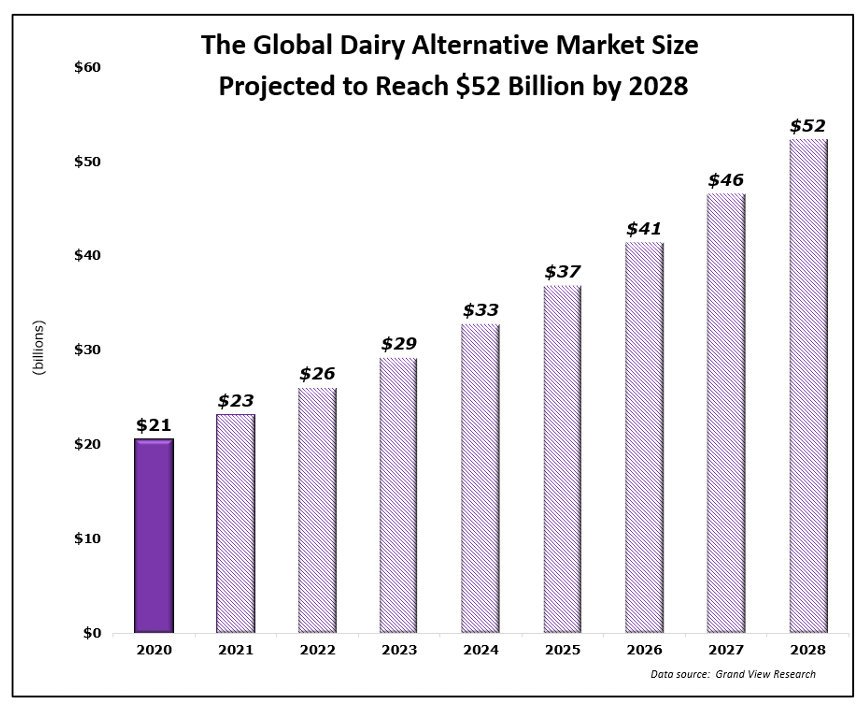 To put that in perspective, that'll be about the same size as today's whopping $57 billion energy drink market.3
This company, with its vegan "mylk" and yogurt business sits at the fulcrum of this sector, because its new, alternative dairy products are being met with high acclaim.
Stock Gains From This Secret Sector Are Booming
Today, investors will find that new-to-the-stock-market, is a low-priced way to join this major disruptive revolution – the plant-based food mega trend – in which big bucks are now starting to change hands.
During the time between January 2, 2020, before the pandemic hit hard, and September 8, 2021, in the heart of the delta variant outbreak…
Else Nutrition Holding (CSE:BABY) – soared 436%.4
Modern Plant Based Foods (CSE:MEAT) – jumped 107% (off its 6/30/2020 IPO).5
Tattooed Chef (NASDAQ:TTCF) – rose 106%.6
Beyond Meat (NASDAQ:BYND) – managed a 50% gain.7
SunOpta Inc. (NASDAQ:STKL) – shot up 284%.8
Of course, the Mack Daddy of this sector, The Hain Celestial Group (NASDAQ:HAIN) was up 55%… HAIN is also up 2,090% since January 2, 1996… that's an average return of 83% a year for the past 25 years.9
Not only do the near-term returns seem solid, but you can also see how this trend could have some long legs.
And, as you'll see, this company is poised to jump into the heart of the soaring multi-billion-dollar action.
You can bet it's the potential for fat returns that has investors and entrepreneurs clamoring to this sector.
Billionaires such as Oprah Winfrey, Jay Z, and former Starbucks CEO Howard Schultz were among Swedish vegan milk maker Oatly Group's early backers. Natalie Portman was in on it, too.10
Even more recently, Leonardo DiCaprio's pre-IPO alternative-dairy company, Perfect Day raised $350 million in a late-stage funding round, valuing the startup around $1.5 billion11.
While we've no word that the uber wealth has found its way to this company yet, it's easy to envision a day when that becomes a reality, and for clear reason.
After a noisy IPO that opened at $22.12, Oatly Group (NASDAQ:OTLY) is doing something unlike the sector's smaller, more nimble companies… it's now pulled back close to 25%.
So, while Oatly has already had its run and is now losing steam, this company is just getting started, having only listed on the OTCQB this October.
Sudden, Worldwide Trend That's Already Paying Off
There's concept and there is reality.
If you take a good look up and down the dairy aisle these days, you'll get a clear picture what drove the forecast for the alternative dairy industry to more than double, to $58 billion over the next six years.
This rapidly transforming reality is what led Innova Marketing Research to declare that plant-based food and drink has reached "global phenomenon status."12
It's also what led the Specialty Food Association to call plant-based foods "more a movement than a trend."  The SFA forecast the sector's annual growth could be as high as 20% a year through 2024.13
Even multinational food processing conglomerate, Archer-Daniels-Midland is taking note. Its insiders are more than aware of the fast-growing acceptance of alternative dairy and meat products.
Just to give you an idea of the size and scale of this massive company that you've likely never heard of, Archer-Daniel-Midlands has a $33.8 billion market cap.14
"We are seeing a heightened demand for foods and beverages that support immune systems, enhance our mood and reduce our environmental impact, driven in part by emerging human tensions," is how ADM's President of Nutrition, Vince Macciocchi, put it.15
He went on to say that "This has provided a unique opportunity for brands to develop disruptive new products that will forever change the way we eat and drink."
"It's going to be a year of innovation, marked by significant breakthroughs in nutrition," he said.16
A Surprising $900 Million Marketplace
This is the movement, the unexpected mega trend, that led this CEO to found this company when a family health tragedy drove them to seek healthier foods.
They turned their backs on Silicon Valley careers to launch this company after a breakthrough led them to create the world's first vegan lassi.
Lassi is a yogurt drink. It's big in Asia and some people consider it India's national drink. But it's also quickly gaining popularity in North America.
Surprising as it sounds, lassi alone carried a $900 million market in 2020.17
That's a big market for a hyper-specialty drink.
It's the type of market where a new award-winning product could easily and quickly scarf up significant market share. Which is exactly what is now happening with this company's alt-dairy lassi, made from a novel, multi-plant-based blend.
The lassi landed them awards such as VegExpo's Product of the Year 2019 award and a "Clean Choice Award" by Cleaneating Magazine in 2021.
Ultimately, it was the widescale attention this company's lassi product received and it's loyal, fast-growing customer-base that got the company's products in Whole Foods.
Long considered the preeminent resource for a healthy lifestyle, getting a product on Whole Foods shelves is a big deal.
And that move opened the door for this company to sell mylk, creamer and plant-based yogurt at the major retailer as well.
The Lassi Market Is Part Of A Larger Trend… A $55 Billion Trend
Like its dairy-made cousin, this company's lassi has 10 billion probiotics per cup to promote good gut health.
Probiotics are the number one reason people drink lassi – as well as eat yogurt – and 10 billion is an excellent number by industry standards.
A well-established health trend, the probiotics market got an unanticipated boost the past two years because of the critical role they play in supporting immune function.
Of course, a healthy immune system is key during these pandemic-influenced times.
And research suggests that Covid-19 is a strong reason behind why probiotics swelled to a $55 billion marketplace in 2020.18
Renewed Focus On Health Is Accelerating This Trend
In fact, a survey conducted by the Natural Marketing Institute in May 2020, found the number of U.S. consumers taking probiotics surged by 66% in 2020.19
As is evidenced in this company's probiotic-rich lassi, the lines are blurring between the supplement and grocery aisles.
Sixty percent of global consumers are looking for food and beverages that support immune health, according to Innova Marketing Research.20
More than one-third of consumers now say they're more concerned about immune health than they were in 2019, or pre-pandemic days.21
Moreover, about 25% of global consumers suffer from digestive health issues. Of those, 50% claim that it has a moderate or severe impact on their overall health.22
And, Euromonitor International found that, "the pandemic has accelerated consumer interest in a more holistic approach to health, which includes a greater understanding of the foundational role of the gut microbiome on each individual's health."
In other words… probiotics.
Moreover, Grand View Research found that a dominating 79% of the $55 billion probiotics market was made up of probiotic food and beverages.23
A key fact that isn't lost on this company's investors.
That's doubly true when you consider that Plant-based food and drink are now so hot that in terms of household penetration their reach goes into 40% of North American homes, according to Information Resources Inc.24
This company's award winning lassi is, frankly, a specialty product.
But it is a good introduction for investors as far as the concept behind the opportunity found in this company.
The Sweet Spot Of All This Company's Products Is Its Plant-Based Yogurt
Amid the overall plant-based movement, another sub trend is warming up.
Actually, getting hot is closer to the truth, as Forbes recently coined plant-based yogurt "white gold."25
Research shows that plant-based yogurt saw sales increase 39% in 2019… worldwide sales are expected to be $2.53 billion in the next three years.26
Even Prevention Magazine is seeing the shift.
Two cashew milk yogurts were among its "15 Best Probiotic Yogurts for a Healthier Gut, According to Dietitians."27 In all, four fully vegan yogurts made Prevention's list of good-for-your-gut yogurts.
That gave us pause. Especially when you consider the global yogurt market is a massive $40.5 billion strong.28
This should give investors pause, too. Because when totally vegan brands have cracked the "best-for-you-lists," the world has changed in a way indicative of a super trend.
That means this could be the perfect moment in time for this company to bring its yogurt to market.
After all, the company already has its foot in the door at the temple of the vegan movement — Whole Foods.
This is why this companies' expansion could be met with such anticipation, because word out from the company is, it can no longer keep up with the demand for its yogurt.
Big Flavor With A Small Footprint
The company also makes a highly regarded coffee creamer in a number of flavors, as well as a cashew-based alternative milk.
Honestly, alternative dairy milk is a decades old trend, mainly dominated by soy, rice, or almond products.  But according to a CNN report, there is certainly room to gain market share for alternative milk that tastes like real cow's milk.29
And while not currently one of the more common alternative-dairy sources, cashews seem to be an ideal candidate.
WebMD reports that "cashew milk is an excellent middle ground, providing a low-calorie option while delivering a creamier consistency than other nut milks…
"It's thick texture makes it an excellent option for drinking or enjoying in cereal. It can also be used in baking or for a variety of other purposes."30
Making milk from cashews is not a complicated process.  Relatively easy to grow, newly planted cashew trees can be ready to move into production after only three years. From there, cashews take only two months to mature towards harvest once the fruit has set31.
It doesn't require a huge investment, or ungodly amounts of water irrigated into drought-laden California deserts, as is the case with almonds.
Compared to a pound of almonds, which require an average of over 900 gallons of water to produce, cashews require only 180 gallons32.
While still water-intensive, cashews are also mainly grown in areas of the world that have natural, consistent rainfall.  That means they maintain a significantly smaller footprint than their more common counterpart.
The Right Products At The Right Time
It's crystal clear that the plant-based "dairy" trend is just gearing up.
That makes this the perfect moment for this company to expand its product line to markets across North America.
After all, the company already has its foot in the door at the temple of the vegan movement — Whole Foods.
And from a production standpoint, the news couldn't be better.  This company is set to meet this increase in demand as they prepare to move into a state-of-the-art facility that's ready to roll.
Best of all – their new 25,000 square foot lab, processing, and distribution center is already GMP-certified. That means the facility's clean rooms and processing center have been licensed for the highest standards. Standards fitting of the organic designation's stringent guidelines.
Plus, this company's new home could set its output on a stratospheric course by immediately increasing yogurt production capacity from less than 100,000 liters a year to at least 2.5 million liters.
By late 2022, expansion plans call for the facility to produce up to 15 million liters a year.
This is the type of rapid expansion that could soon find this company generating $100 million or more in annual revenues.
This Company's Management Team Has Intellectual Breadth And A Silicon Valley Pedigree
The eBay Nerd
The Chief Executive Officer brings an engineer's point of view to this company's product development process.
The CEO is a former web technology expert in multiple Silicon Valley companies, including time as a software engineer at ecommerce giant Ebay.com.
He holds a Master's degree from Northwestern Polytechnic University, is a Microsoft Certified Technology Specialist, and is an Award-winning vegan entrepreneur with certification in Plant-based Nutrition. He's the heart of the idea that created this company.
The Agile Mind
It's often said that Director of Product Innovation is this company's spirit and soul.
She turned her back on Silicon Valley and is now a respected and award-winning serial vegan entrepreneur. She too holds a Master's degree of Computer Science from Northwestern Polytechnic University.
In a world of AI and machine learning, she uses her well-honed analytical brain to mastermind and develop this company's innovative product line.
The Sharp-Eyed Trader
There are likely a slew of happy investors who hold this company's Director and Advisor in high regard.
A vegan entrepreneur and impact investor, she is a Founding Director and creator of the U.S. Vegan Climate Index ETF (VEGN).
Her ETF is up 86% since March 2020.33
She spent time as a Founding Director of Beyond Animal, a platform to accelerate growth of the vegan economy. She is also the former head of derivative marketing at UBS, an investment bank in the U.K.
The Vegans' Go-To Corporate Suit
This company's President is anything but the cliched notion of a buttoned-down CPA.
He's won a serious reputation in vegan corporate circles as a consultant at Lush Cosmetics, which is a famous handmade vegan cosmetics brand.
He's also President of LucPrise International, which is a management consulting firm that advises companies through each stage of their growth. Strategist of Uni Express, a leading last mile delivery and fulfillment platform for ecommerce.
He's a CPA who holds certification in Plant-Based Nutrition.
The Moneymaker
You can have the world's best vegan alternative dairy products but they're not worth a dime if you can't get them stocked on store shelves.
That's where this company's Co-Founder and Chief Revenue Officer comes in.
It's his hustle that won this company shelf space in more than 100 retail channels, which include well-known chains such as Whole Foods and Choices Market.
This company is home to a highly educated team and heis no exception. He holds a Master's degree of Commerce, a Bachelor of Advanced Accounting degree from Sardar Patel University, and a certificate in Scaling a Food Business from the University of British Columbia.
Such a superior team is, however, but one of the…
8 Strong Reasons To Buy This Company Today
MAJOR TREND — Oprah is in on plant-based products, so are Jay Z, Natalie Portman, Howard Schultz, and Blackstone… don't delay in following the huge money into a new revolution.
INVESTING SUCCESS – Early in investors are already being rewarded by small, new plant-based food and drink companies with shares that rose between 106% and 436% in less than two years.
THE SMITH EFFECT – Claire Smith is such a vegan investing expert that she helped found the U.S. Vegan Climate Index ETF, which is up 86% since March 2020… She agreed to sit on the Board of Directors at this company
IMMUNE OBSESSION – The pandemic has focused people on tending for their first line of defense against Covid-19… their immune system. That focus has turn to probiotics, which are known to promote immune system health. This company's yogurt-based lassi drink and its yogurt are rich in probiotics.
MASSIVE GROWTH – This company's alternative dairy sector is set to explode with huge growth. Grand View Research expects alt-dairy to grow to more than $52 billion by 2028 — a 156% leap from today's $22 billion.
ACCESS TO WHOLE FOODS –This company is a startup, but it has accomplished something astounding. It has won shelf space in the temple of veganism – Whole Foods, as well as more than 100 other retail outlets.
THE NEW PLANT – As you read this company has just moved into, or is in the middle of moving into, a sweet new processing plant that been okayed for business right down to its clean rooms. This will allow the company to ramp up its processing and product lines.
MEGA TREND – You're not alone if the plant-based food mega trend quietly snuck up on you. But it's real, it's gaining velocity, and that should be outstanding news for trend investors.
The world is going green.
The kids are taking over.
And their grandparents, with aged immune systems, are gobbling probiotics.
Talk to your broker or adviser about this trend… it's likely they'll show you the same research you've just read here.
Even if you roll your eyes at all this "hippie stuff," one high-flying stock from this sector could keep you in cheeseburgers for life.
A well-run company with timely products, such as this one could very well be that stock.
1 https://www.cnet.com/health/nutrition/impossible-burger-everything-you-need-to-know/
2 https://www.grandviewresearch.com/industry-analysis/dairy-alternatives-market
3 https://www.investopedia.com/articles/investing/022315/energy-drinks-industry.asp
4 https://finance.yahoo.com/quote/BABY.V/history?p=BABY.V
5 https://finance.yahoo.com/quote/MEAT.CN/history?p=MEAT.CN
6 https://finance.yahoo.com/quote/TTCF/history?p=TTCF
7 https://finance.yahoo.com/quote/BYND/history?p=BYND
8 https://finance.yahoo.com/quote/STKL/history?p=STKL
9https://finance.yahoo.com/quote/HAIN/history?period1=759024000&period2=1632182400&interval=1d&filter=history&frequency=1d&includeAdjustedClose=true
10 https://www.cnbc.com/2021/05/19/oatly-1point4-billion-ipo-priced-84point4-million-shares-at-17-each.html?&qsearchterm=Oatly
11 https://www.wsj.com/articles/alternative-milk-company-perfect-day-raises-350-million-prepares-for-ipo-11632952800
12 https://www.prnewswire.com/news-releases/innova-identifies-top-10-food-and-beverage-trends-to-accelerate-innovation-in-2021-301155638.html
13 https://www.specialtyfood.com/news/article/specialty-food-association-trendspotter-panel-announces-2021-trend-predictions/
14 https://finance.yahoo.com/quote/ADM?p=ADM&.tsrc=fin-srch
15 https://investors.adm.com/news/news-details/2020/Top-Five-Global-Trends-that-Will-Shape-the-Food-Industry-in-2021/default.aspx
16 https://investors.adm.com/news/news-details/2020/Top-Five-Global-Trends-that-Will-Shape-the-Food-Industry-in-2021/default.aspx
17 https://www.cheeseconnoisseur.com/kefir-and-lassi-popularity-continues/
18 https://www.grandviewresearch.com/industry-analysis/probiotics-market
19 https://www.grandviewresearch.com/industry-analysis/probiotics-market
20 https://foodindustryexecutive.com/2020/12/4-mega-trends-that-will-define-the-food-industry-in-2021/
21 https://foodindustryexecutive.com/2020/12/4-mega-trends-that-will-define-the-food-industry-in-2021/
22 https://www.euromonitor.com/article/the-rise-and-potential-of-gut-health
23 https://www.grandviewresearch.com/industry-analysis/probiotics-market
24 https://www.cnn.com/2021/09/27/business/silk-so-delicious-plant-based-milk/index.html
25 https://www.forbes.com/sites/briankateman/2019/12/10/plant-based-yogurt-is-being-milked-for-all-that-its-worth/?sh=da521241f591
26 https://www.forbes.com/sites/briankateman/2019/12/10/plant-based-yogurt-is-being-milked-for-all-that-its-worth/?sh=da521241f591
27 https://www.prevention.com/food-nutrition/healthy-eating/g35570043/best-probiotic-yogurt/
28 https://www.statista.com/statistics/870893/global-yogurt-market-value-forecast/
29 https://www.cnn.com/2021/09/27/business/silk-so-delicious-plant-based-milk/index.html
30 https://www.webmd.com/diet/health-benefits-cashew-milk#1
31 https://www.agrifarming.in/cashew-seed-germination-period-temperature-process
32 https://88acres.com/blogs/news/water-footprint-of-seeds-vs-nuts
33 https://finance.yahoo.com/quote/VEGN?p=VEGN&.tsrc=fin-srch
Legal Notice: This website is owned and hosted by Market Tactic Media Ltd. Articles appearing on this website should be considered paid advertisements. Market Tactic Media Ltd. and its owners, managers, employees, and assigns (collectively "the Website Host") is often paid by marketing companies to host websites on which articles profiling public companies are published. The articles on this website are not, and should not be construed to be, offers to sell or solicitations of an offer to buy any security. Neither the articles on this website nor the Website Host purport to provide a complete analysis of any company or its financial position. The Website Host is not, and does not purport to be, a broker-dealer or registered investment adviser. The articles on this website are not, and should not be construed to be, personalized investment advice directed to or appropriate for any particular investor. Any investment should be made only after consulting a professional investment advisor and only after reviewing the financial statements and other pertinent corporate information about the company. Further, readers are advised to read and carefully consider the Risk Factors identified and discussed in the profiled company's SEC and/or other government filings. Investing in securities, particularly microcap securities, is speculative and carries a high degree of risk.