New Mining Tech Breakthrough Unlocks 'Industry-Shaping' Lithium Supply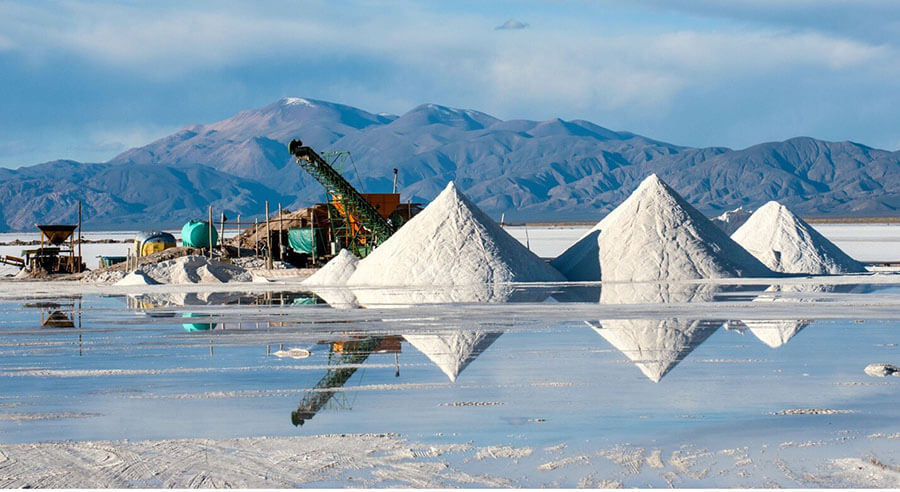 This innovative tech is bringing at least tens of millions of tons of lithium to market, potentially solving the world's looming supply crunch…
And one small microcap, is sitting on some of the richest claims above Canada's vast underground oceans.
The Opportunity at a Glance
There are huge oceans of brine under the fields and mountains of Alberta, Canada — and those oceans are full of lithium. They have been tested extensively, and routinely return readings of lithium at 50-200 ppm.
Until recently, this lithium was inaccessible. At the relatively low concentrations found, there was no extraction technique that made economic sense. In fact, this brine has often been a waste product of the area's oil and gas industry.
That has changed in the past few years, as techniques for quickly, cleanly, and cheaply extracting lithium from brine have been developed. These new techniques have unlocked Canada's brine lithium, and have inspired one company in the area to call Alberta "The Saudi Arabia of lithium."
This extraction process is very low impact — with a small footprint, and return of brine to the ground once the lithium has been extracted. This method of extraction has the potential to be completely carbon neutral, if carbon is sequestered with the used brine.
It is a truism — necessity is the mother of invention.
And it's clear the world needs more lithium.
EV markets are growing faster than manufacturers can keep up — with many EV models boasting months-long waiting lists.
Lithium is one of the chokepoints in the EV supply chain. Even with lithium supply growing a projected 38% this year, by 2025 demand is expected to outstrip supply.i
With batteries making their way into more and more goods, demand looks to be on a near-parabolic path for the foreseeable future.ii
By 2032, lithium demand will be about six times what it is today.iii
This increasing demand — recently outpacing production growth — is part of the reason that the price of lithium has soared in the past year, hitting a high of $85,000/mt in November.iv
In fact, according the Benchmark Minerals, we need nearly 400 new mines to come online by 2035 to keep up with demand.v
There's a serious problem with this. There are nowhere near 400 new mining projects on the drawing board.
Worse, most traditional lithium mining projects — from hard rock, or using traditional brine evaporation methods — take years to permit and set up.
This is why we can so clearly see the shortage coming in 2025 — if the new mines aren't started now, they won't be ready in time.
At least, that's true for traditional methods.
But that's all changing, thanks to one company's breakthrough Direct Lithium Extraction technology, which can pull lithium out of brine in hours, instead of months or years.
This technology is…
Clean. Energy use is negligible, as it is almost entirely needed for drilling wells. And in Alberta, many wells are already in place, thanks to the area's oil and gas industry.
Permitting now looks very similar to the process used for oil and gas — meaning it only takes an average six months (as opposed to years for solid rock lithium mining or traditional brine evaporation operations). Once set up, lithium is extracted from brine in hours — as opposed to months for brine evaporation.
Cheap. Because these wells are so cheap to run, they can now extract lithium at very affordable prices, as long as concentrations are high enough. And all of this company's samples thus far are in the profitable range.
Environmentally friendly. The footprint of an operation is hardly larger than the well. Once the brine is brought up from the well, after spending a few hours being processed for lithium extraction, it goes right back down underground. When the brine returns underground, it can be used to sequester carbon — making the entire operation carbon neutral.
Scalable. Traditional lithium mining requires large amounts of capital up front to build out the infrastructure. This tech can expand well-by-well, without needing a large initial outlay, and without the construction delays that come with large infrastructure projects.
At least this company's Alberta projects. That's because this lithium brine is found exactly where oil has previously been found. Indeed — the oil floats atop this brine. When oil is extracted, it's actually only 10% oil, 90% brine. That means the area has a robust infrastructure in place, brine formations that have already been well explored and sampled, and a plethora of this valuable stuff already being unearthed by existing industry. There isn't the usual exploratory risk here — because so much exploration has already been done.
How Direct Lithium Extraction Works
The Direct Lithium Extraction (DLE) process is as ingenious as it is simple.
At its heart, it heats brine, uses an extraction compound to grab lithium from the concentrated brine, while steam from the process is recycled to heat more incoming brine.
Once the lithium is extracted, the brine goes back underground where it came from.
It's hard to overstate how efficient this process is compared with all other methods.
Getting lithium out of solid rock is an intensive process, whether it's open pit mining or underground.
Brine extraction via evaporation requires large pools to store the briny water for months, and wastes the water, while leaving behind an undesirable condensate.
DLE doesn't have any of those drawbacks. It takes only hours for the process to complete. The brine is returned underground, alleviating environmental concerns.
All that DLE needs is a simple well over a lithium-rich aquifer.
And that's why this process will first be used in Alberta.
Alberta has…
A lithium-rich underground ocean, with numerous samples coming back at 50-200 ppm concentrations.
Wells already in place, thanks to the oil and gas industry, with 90% of the oil industry's extractions in Alberta coming from brine, as it stands today.
Infrastructure already in place, thanks to the oil and gas industry. Getting this lithium to market will be cheap and easy.
A friendly political environment. Alberta just created a special permitting process for lithium — designed to streamline the industry, increasing vetting while making it easier for appropriate projects to move forward. Permitting in Alberta can take as little as six months. Remember — in Australia, it's closer to five years. In South America it's worse.
Access to the money made available in the US's Inflation Reduction Act. The $135 billion the US earmarked to bolster domestic EV production isn't just for the US. It also applies to close economic allies, like Canada. Some of that huge war chest is going to make it to Canada — and the projects in Alberta make tremendous sense, as they have the greatest potential to alter the lithium landscape.
The truth of the matter is, almost any investment into lithium firms in this area should do well.
Heading into a supply crunch — with demand skyrocketing — the lithium market is at the start of a major bull run.
The companies operating in the Alberta fields today also were prescient.
They saw the world's need for more lithium… and also saw the work being done on the DLE extraction process, and staked claims early.
Today, similar claims go for half a million dollars an acre; these companies bought in at much lower valuations.
The Riches Under Indigo's Feet
Lithium is not actually that common in the earth's crust.
It requires a few very specific geological features to emerge.
Luckily, Alberta's brine oceans are host to exactly those geologic features.
Alberta's briny aquifers are exposed to dolomite and limestone. The dolomite dumps lithium into the brine, and that brine comes closer to the surface when mixed by seismic activity — like that above a fault.
This is the engine that feeds Alberta's lithium rich oceans.
But the best thing about getting one of the early claims in this area? Much of the exploration already done for it.
Leduc and Legal
This company's Leduc and Legal claim already has over 300 wells dug, with samples finding 36-56 ppm lithium.
These areas are targeting the same Devonian-aged Woodbend, Winterburn, Nisku, and Leduc Carbonates that are the focus of another major lithium developer's pilot program.
The project is also adjacent to the Sturgeon Lake Leduc formation, which currently has an inferred mineral resource of 5.9 million tonnes lithium carbonate equivalent.
Fox Creek
The Fox Creek claim is Indigo's largest, at over 114,000 hectares.
It also has some of the highest concentrations of lithium, with the majority of samples showing over 80 ppm, and a high of 118 ppm.
Peace River Arch
The Peace River Arch project is the company's smallest, at a smidge over 10,000 hectares. But it boasts the highest overall average, with samples dipping no lower than 79 ppm, and topping out at 100 ppm.
And like the company's other projects, it is adjacent to Highwood Asset Management's oil production facilities. That's important to note, as it offers access to a well trained workforce, an established network of gravel roads and highways, and robust electrical infrastructure.
Taken all together, this company hopes to produce around 8 million kg of lithium per year when it is completely up and running, with almost 4 million kg from the Legal and Leduc properties alone.
What to do now…
With low initial set up costs, a planning-to-production timeline of as little as six months, and the price of lithium look set to rise over the coming years of a supply squeeze, this could be one of the decade's biggest lithium opportunities.
It's not often you have access to that kind of potential from a $5 million microcap company.
If you want a potential moonshot in the lithium space, sign up with your email address to learn more about this fast-growing opportunity.
ihttps://www.fastmarkets.com/insights/lithium-supply-and-demand-to-2030
iihttps://about.newenergyfinance.com/blog/will-the-real-lithium-demand-please-stand-up-challenging-the-1mt-by-2025-orthodoxy/
iiihttps://techinformed.com/almost-400-new-mines-needed-to-meet-future-ev-battery-demand-data-finds/
ivhttps://www.dailymetalprice.com/metalpricecharts.php?c=li&u=kg&d=240
vhttps://techinformed.com/almost-400-new-mines-needed-to-meet-future-ev-battery-demand-data-finds/


Legal Notice: This website is owned and hosted by Market Tactic Media Ltd. Articles appearing on this website should be considered paid advertisements. Market Tactic Media Ltd. and its owners, managers, employees, and assigns (collectively "the Website Host") is often paid by marketing companies to host websites on which articles profiling public companies are published. The articles on this website are not, and should not be construed to be, offers to sell or solicitations of an offer to buy any security. Neither the articles on this website nor the Website Host purport to provide a complete analysis of any company or its financial position. The Website Host is not, and does not purport to be, a broker-dealer or registered investment adviser. The articles on this website are not, and should not be construed to be, personalized investment advice directed to or appropriate for any particular investor. Any investment should be made only after consulting a professional investment advisor and only after reviewing the financial statements and other pertinent corporate information about the company. Further, readers are advised to read and carefully consider the Risk Factors identified and discussed in the profiled company's SEC and/or other government filings. Investing in securities, particularly microcap securities, is speculative and carries a high degree of risk.