The sustainable protein revolution is propelling some little-known companies towards billion-dollar valuations.2
Driven by hungry consumer demand, this $20-billion market is forecast to grow 156% by 2028.
An under-the-radar stock has been outperforming its sector (rising 25% over the past few weeks, but it's still early)3
"A sizzling
opportunity.4" ,

"A plant-based
gold rush.5"

The biggest growth story today is not in fast-growing technologies like 5G or cloud computing. It's not in cybersecurity or fintech either, though all four of those industries are firing up investor portfolios.
It's more urgent. And more essential.
And it could be far more lucrative. If you're thinking it's sustainable energy, you're getting closer. The biggest growth market today is the tectonic shift to sustainable protein. "Sustainable," "plant-based," "alternative," or "alt" protein are just fancy ways of talking about a new generation of what used to be called veggie burgers and non-dairy milk. But, after spending decades on the fringe of the food world, they're new, they've improved, and they're about to take centre stage.
There is so much potential in this market that companies are seeing their sales and revenues explode right out of the gate. And as BCG, the world's second-largest consulting firm wrote in its March 2021 alt-protein market report:6
"What we see now is only the beginning."

The beginning of the alternative protein megatrend. And the beginning of a fast-growing and long-lasting bull market. So let's get right into it.
The Sustainable Protein Revolution
There's a global shift away from meat and dairy, with their heavy environmental and ethical burdens, and towards infinitely more sustainable plant-based alternatives. It's happening at every level:
Consumers are demanding food that is more ethically produced, and less resource and carbon-intensive.
Governments and institutions like the World Health Organization and the World Economic Forum are driving policy change for plant-based foods that are better able to feed a growing global population without the heavy environmental footprint of meat and dairy.7
Visionary entrepreneurs are answering the call by launching companies and innovating plant-based foods that are rapidly taking over space in meat and dairy aisles.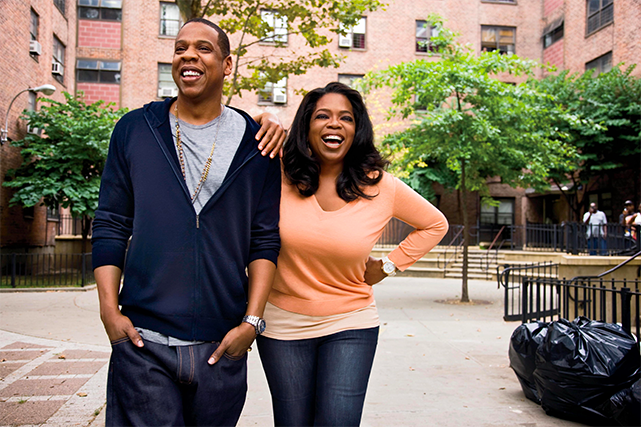 Top Investors Are
Leading The Charge
The New York Times says that "the big money is going vegan ". Private equity and celebs such as Oprah and Jay-Z "are scrambling to get a foot in the door" 8
So are billionaire investors like Bill Gates, Jeff Bezos, and Richard Branson, who are going in for, perhaps, two big reasons:
Because plant-based diets are essential to the planet's future.9
Because there's an enormous amount of money to be made.10
The speed and size of growth is nearly unfathomable. The alt-protein market is forecast to grow 100-fold in just one generation.11 It could create a multi-trillion dollar windfall that will enrich countless investors and millions of everyday workers.
And right now, you're standing on the ground floor.
Three pure play companies have already exploded to multi-billion dollar valuations. 12, 13, 14
There are some great opportunities, including one under-the-radar pure-play that just went public, which means it's still relatively undiscovered.
In this fast-emerging market
"The sky's the limit."
It's not unusual to hear fast-growing industries compared to "the early days of the internet." But what is unusual is to hear it from button-down Wall Street analysts and cold-blooded venture capitalists. Yet that's exactly what they're saying.
Global market intelligence firm Mintel says:
"Seed capital in protein start-ups is
reminiscent of the internet revolution." 15

"The sky's the limit," the firm adds. Mintel isn't alone. Venture investor Shen Tong says the emerging sustainable protein market is: "The biggest value creation since the internet revolution"
Richard Parr, sustainability advisor to the UK Department for International Development from 2010-2018 and now managing director of the non-profit Good Food Institute Europe finds the similarity to the dot com revolution striking: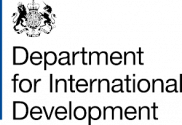 "Imagine you have a time machine and you can go back to Silicon Valley in the 1990s. The very first Apple computer. We're now at that stage in the protein sector… We're right at the beginning of a revolution that will transform our world… And which offers, for those who are able to make the right plays, significant opportunity." 17
But venture capitalist Paul Cuatrecasas, founder of Alegro Capital, looks at it a little differently. In September he wrote that we're seeing the start of: "A revolution in the food industry that will feel like the disruption of the horse and cart back in the early 1900s by the automobile." 18
Just as the auto revolution and the internet revolution completely transformed entire industries, the sustainable protein revolution will completely transform the global food value chain.
We're talking not about billions of dollars, but trillions of dollars. And just like the early days of autos and the internet, the alt-protein market is red hot. And it's creating enormous potential for early investors.
Alt-Protein Bull Market Exploding
To 100x Its Size Today
In June 2021, Credit Suisse issued its in-depth forecast on the global food system and the rise of sustainable protein. The 100-page report forecasts some truly astonishing value creation over the next 29 years.
From a base of $14 billion today, the meat and dairy alternatives market could multiply 100 times over to reach $1.4 trillion by 205019
So it's no wonder that the first two alt-protein IPOs would produce some of the most spectacular public market launches of the 21st century: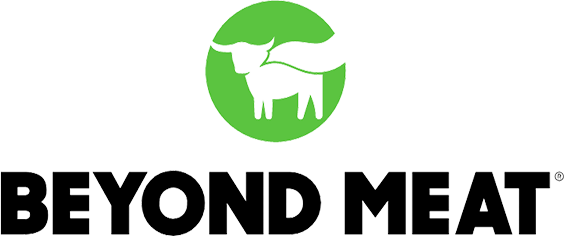 Beyond Meat's (BYND) 2019 public launch at a $1.5 billion valuation quickly soared to $13 billion in just 90 days, becoming the most successful IPO since the 1990s dot com boom.20

Alt-milk maker Oatly (OTLY) raised $1.43 billion in its May 2021 IPO, its share price jumping 30% in their market debut with its market cap hitting just under $13 billion.21
Almost impossibly, Beyond Meat is in the top 20 largest US-listed packaged foods companies, just behind industry giants Pilgrim's Pride and Post Holdings, both founded more than 75 years ago.22
Oatly has risen spectacularly into one of the top ten largest US-listed beverage companies, with only the likes of Coca-Cola, PepsiCo, Keurig, or Monster larger.23
Other young alt-protein pure plays aren't far behind: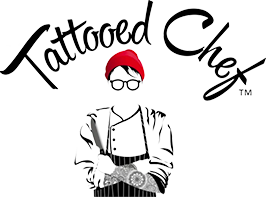 Tattooed Chef (TTCF) began trading in October 2020. With expanding distribution, strong sales, and plenty of cash, the company immediately went on a buying spree. Now, one year after its public debut, Tattooed Chef has a whopping $1.4 billion market cap.
Bull Market Picking Up Pace To 29.46% Annual Growth For The Next 9 Years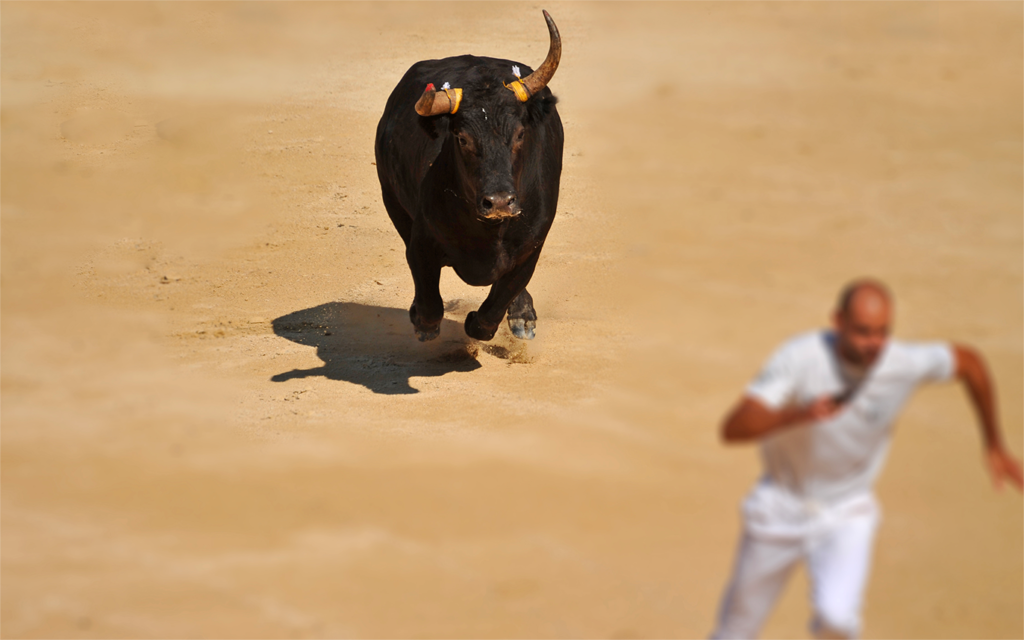 Think about this:
Since 2011 the sustainable protein market has grown from $1.6 billion to $14 billion. That's an average return of 21.8% for 11 straight years.
On its way to $1.4 trillion, the alt-protein market will pass $143 billion around 2030.24
So for the next nine years, the market will pick up its pace to 29.46% average annual growth.
By 2050, the $1.4 trillion market will be just about the exact size of the global meat industry!
The alt-protein revolution is unstoppable.
It is demanded by health and climate-conscious consumers. It is increasingly mandated by policymakers.25 And, it is pleaded for by institutions that see it as the only way to feed the world without destroying the planet.26
Yet the alt-dairy industry is mired in products that have failed to capture the true profile of dairy.
This Revolution Craves New Leaders
Granted, there has been some improvement over the industry's 30-odd year history. But not enough. After 30 years, the dominant soy, rice, and almond dairy alternatives still leave most consumers saying, "it just doesn't taste right." For the revolution to succeed, it needs new thinking.
So what would happen if someone brought Silicon Valley agility and status quo-breaking disruption to an industry that is notoriously slow to innovate?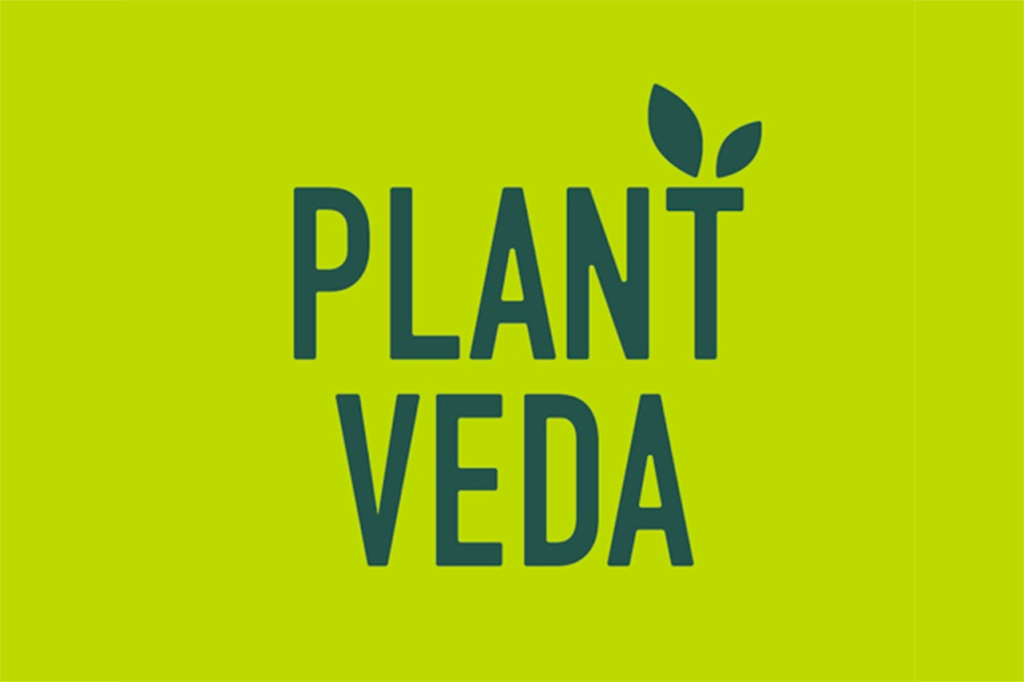 That's exactly what led to the creation of
up-and-coming alt-dairy maker Plant Veda (PLVFF:OTC, MILK.CN).
The company was launched by two Silicon Valley talents who made a conscious decision to live more purpose-driven lives. eBay web technologist Sunny Gurnani and software engineer Vanita Gurnani saw the alt-protein movement as a vital part of the drive for better health and a cleaner, more sustainable world.
Having spent years immersed in analytical problem solving and whole system analysis, the tech gurus saw the problem with alternative dairy immediately.
The solution wasn't as easy. It would take the pair nine years before they could say they had a viable alternative.
How The Competition is Getting It Wrong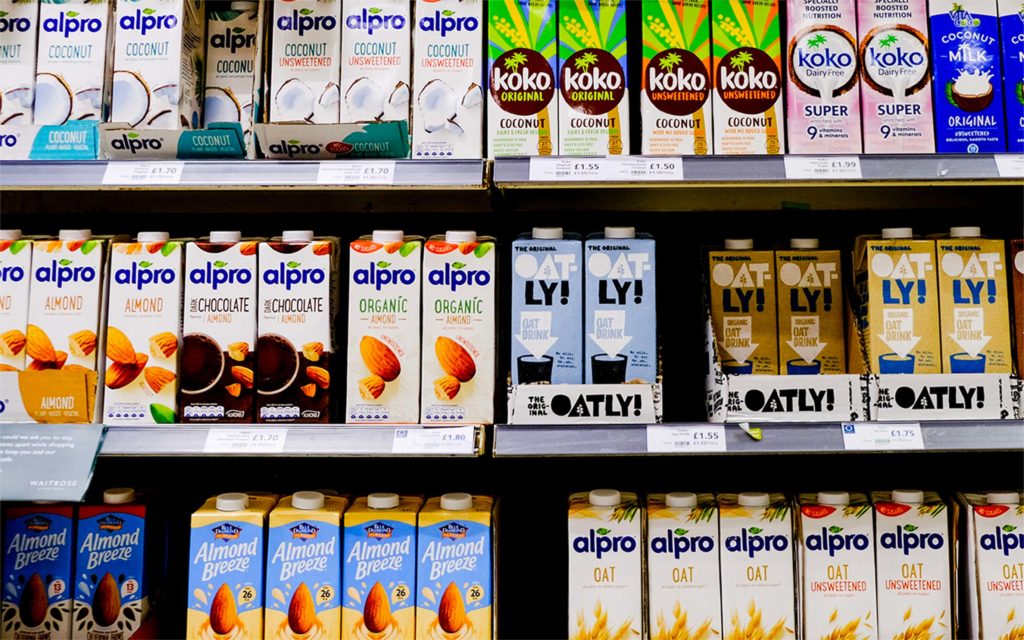 The problem they saw was that every alternative dairy product is made by a process of compensating for what is lacking. For example:
A soybean lacks flavor. And so, a flavor not naturally present in soybeans must be added in.
Soybeans also lack an appealing milk-like color or creaminess, so coloring and thickeners must be added to disguise soy's gray color and thin consistency.
It's the same for almonds. And rice. And oats.
When the base ingredient is notable for what it lacks, everything else is about compensation. Nearly all alt-dairy products are made by grinding the base ingredient (beans, nuts, grains), adding water, straining out the solid bits, then adding sweeteners, flavorings, and stabilizers.
You've probably seen dozens of these products come and go at your local grocery store. They "come" because more and more consumers want a non-dairy alternative to milk and milk products. They "go" because most of the products are poor substitutes to milk, lacking its taste, texture, and color.
The current fad is to use the tools of synthetic biology to create whey and casein, the two proteins responsible for the taste and texture of milk. But whether consumers will accept lab-grown milk alternatives as true non-dairy products is yet to be seen.
Plant Veda believes the market will vote for a more holistic product.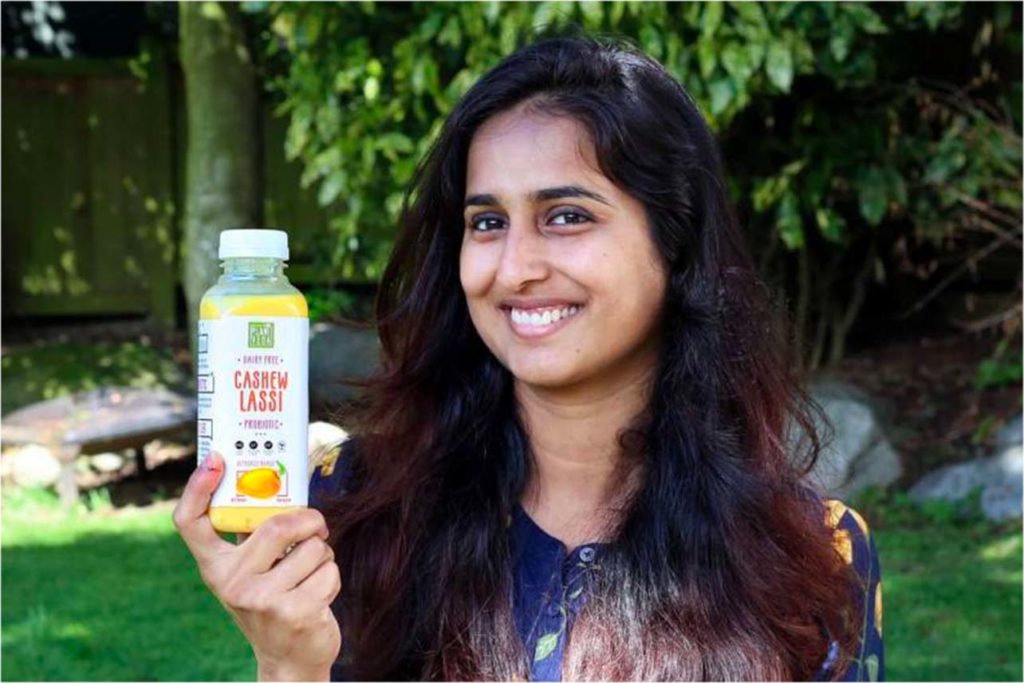 Plant Veda
solves the
problem of
alt-dairy
The Gurnanis took a different path. 
Trained in Silicon Valley to think outside the box, they thought about what would happen if they did not strip plants of their essence.
A seed or a nut or a fruit is perfect in itself. It contains whole nutrients, a specific balance of sugars and acids that create its natural flavor, and a unique cell structure that gives it texture. Instead of breaking down components and reassembling them in different combinations, they would work with whole natural ingredients.
Starting with that simple philosophy, the Gurnanis began experimenting with natural, whole foods, stripping nothing from them, but blending them in different mixtures until satisfied with the result. 
Their goal was to create a product that does not "mimic" dairy but is equal in its "palate satisfaction," including its creamy consistency and subtle, slightly sweet flavor. Without any need to compensate with things like oils or thickening agents.
"Perfect" Alt-Dairy Product Was a Decade In The Making
Their first products were created in the married couple's kitchen, where they worked nights and weekends to refine their plant-based dairy products.
The recipes, protected as important intellectual property, are the work of a decade of experimentation and refinement.
In a completely disruptive and agile fashion, they opted to test the market through a food truck developing a loyal customer fan base in Silicon Valley
When it was time, the pair quit their lucrative jobs and moved the family to Surrey, British Columbia, where they launched Plant Veda in 2019.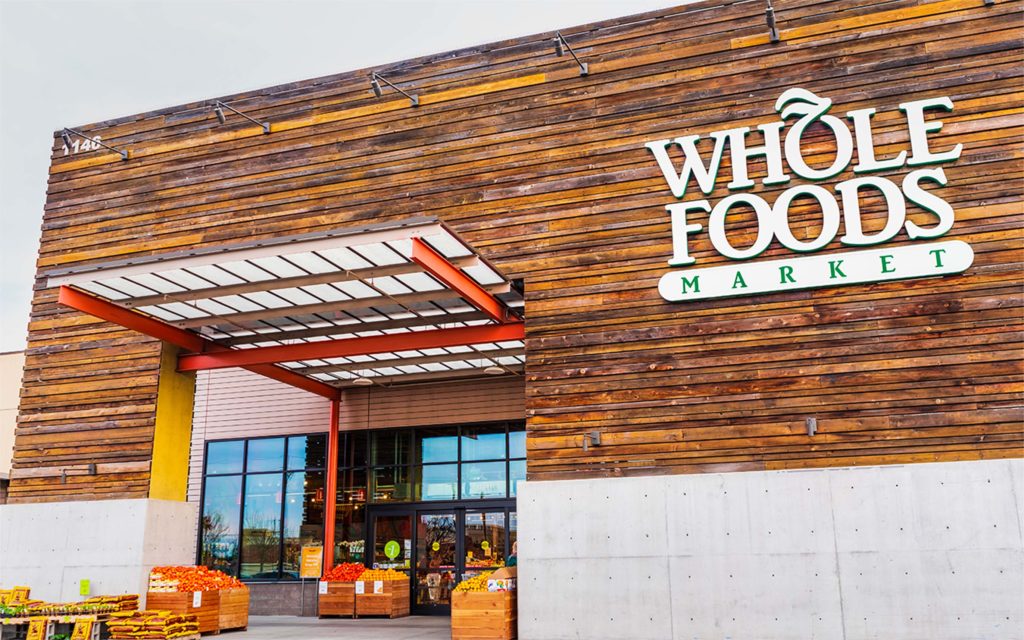 Winning Awards, Customers, and Whole Foods Markets
Right out of the gate, Plant Veda started winning awards for product excellence, racking up awards and finalists in 2019, 2020, and 2021. But the products didn't just win awards. They won over consumers who wanted a richer-tasting, higher quality alt-dairy product than what was available.
They even won distribution in the "Mecca" of healthy eating, Amazon-owned Whole Foods Markets.
Whole Foods is consistently ranked among North America's top grocery chains. Before getting valuable shelf space, every product must meet the company's high-quality standards.
The Whole Foods deal could also give Plant Veda a foot in the door of Amazon, the world's largest retailer, and all its far-reaching distribution channels.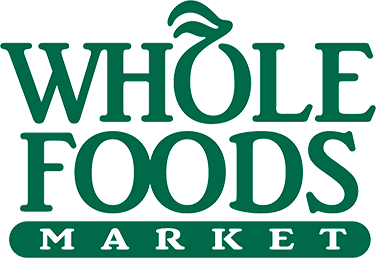 Whole Foods is consistently ranked among North America's top grocery chains. Before getting valuable shelf space, every product must meet the company's high-quality standards.

The Whole Foods deal could also give Plant Veda a foot in the door of Amazon, the world's largest retailer, and all its far-reaching distribution channels.
Plant Veda Historical Sales Doubling Since Launch
Right out of the gate, sales took off for the company's products, doubling by the end of 2020, and on track to more than double in 2021. Revenue for the six months of 2021 (ending June 30, 2021) was about the same as what the Company generated for the entire year of 2020. Sales could have been more if the company had the production capabilities to match demand.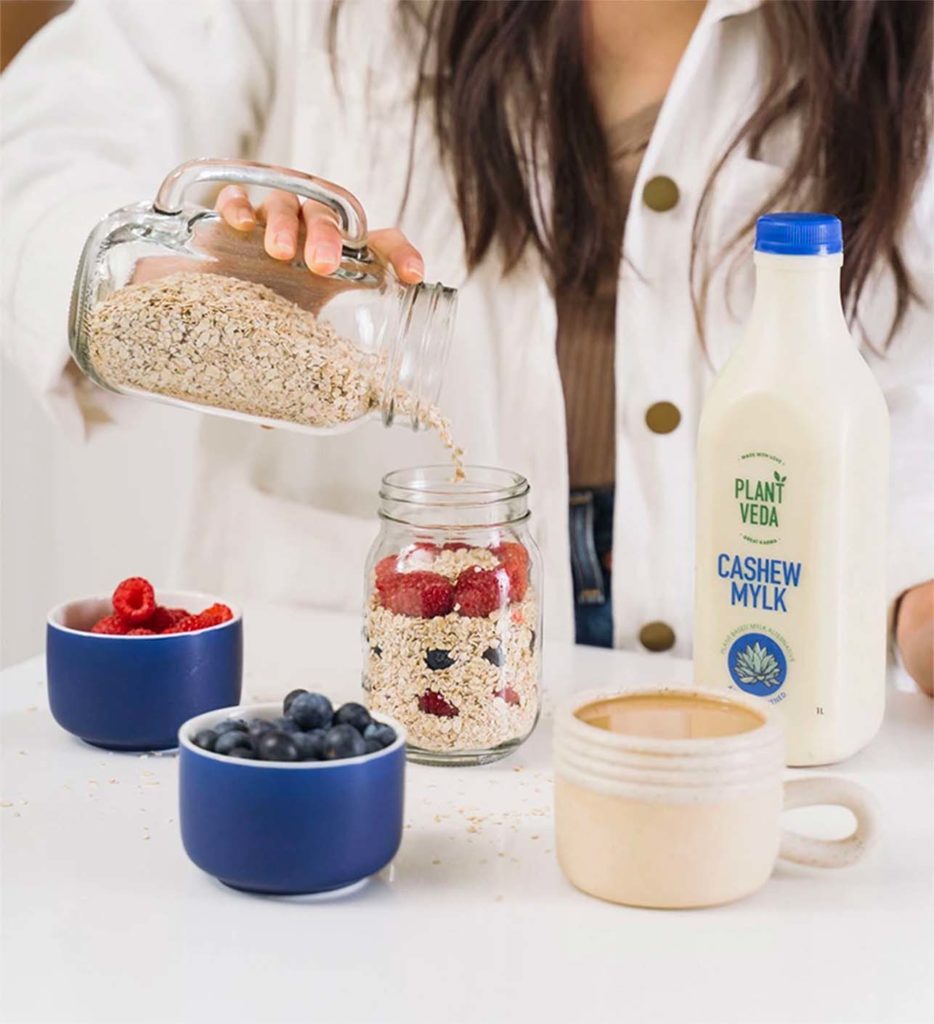 Their popular alt-dairy products are flying off the shelves faster than stores can stock them. Distributors are upping their orders, trying to keep up with strong demand.
But Plant Veda's production lines are already running at full capacity, churning out a steady stream of SKUs and adding shifts to increase output.
The line of 10 alt-dairy products is already being sold in Canada. But Plant Veda is aiming higher.
The lucrative US market is waiting and additional products are already developed and waiting for the production capacity to manufacture them.
The company has already secured major distributors, such as Sysco and UNFI. They've built a robust social media presence, an online retail store, and they're putting the finishing touches on a development that could launch Plant Veda to the top of the industry.
The Constraints to Come Off In 2022 For 50x Production Capacity Growth!
With product requests pouring in, and distributors anxious to fill market shelves, revenue could be ready to explode.
The finishing touches are being put on a shiny new 25,000 square foot manufacturing facility, the Plant Veda Plant-Based Innovation Centre, in Delta, British Columbia. The facility has a spacious R&D center with full food-grade laboratory capabilities where new products to increase market share and build revenue will be developed.
The new state-of-the-art manufacturing facility has capacity for nearly 50 times current production volume.27
Fifty times the capacity meets accelerating demand means significant revenue growth. As soon as 2022. And that's just the start!
Plant Veda's strategic plan has built-in three growth phases that will roll out over the next three years.
PHASE 1: The new manufacturing center allows production capability to support up to $10 million in annual revenue for 2022.
PHASE 2: With minimal upgrades, production could scale to supporting $30 million in annual revenue for 2023.
PHASE 3: Scaling to $60 million in annual revenue by 2024 or 2025.
Plant Veda Is Innovating the Future of Food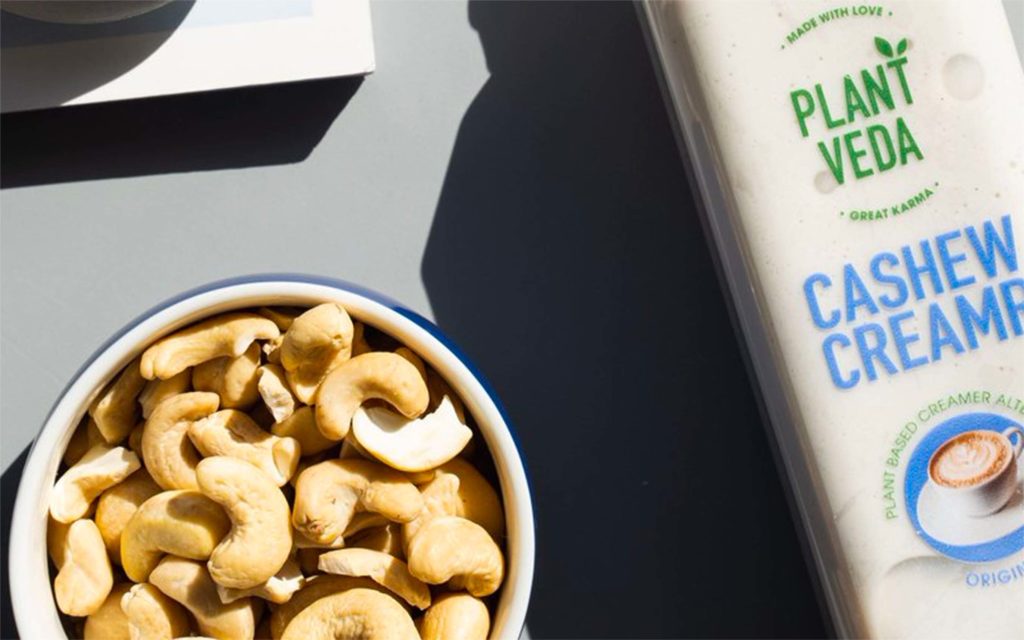 Founders Sunny and Vanita Gurnani aren't just taking a different path when it comes to product development and their use of whole ingredients. They're also choosing a different path for the business. A path designed to streamline decision-making and enhance innovation. Starting with the way they're attracting venture capital.
Following a path cut by the tech industry, Plant Veda chose to avoid the high costs and constraints of an IPO. Instead, the company chose to list on the Canadian Stock Exchange because of the advantages it offers early-stage companies to access capital in a well-regulated marketplace.
Many innovators and entrepreneurs prefer to build the wide shareholder base that's possible with public venture capital markets, instead of the necessity of structuring a costly IPO by giving up a significant share or even control of the company, their "baby." This allows Plant Veda the agility, flexibility, and room to innovate that's needed in fast-changing markets.
This is what attracted the support of new board member and investment industry heavyweight Claire Smith.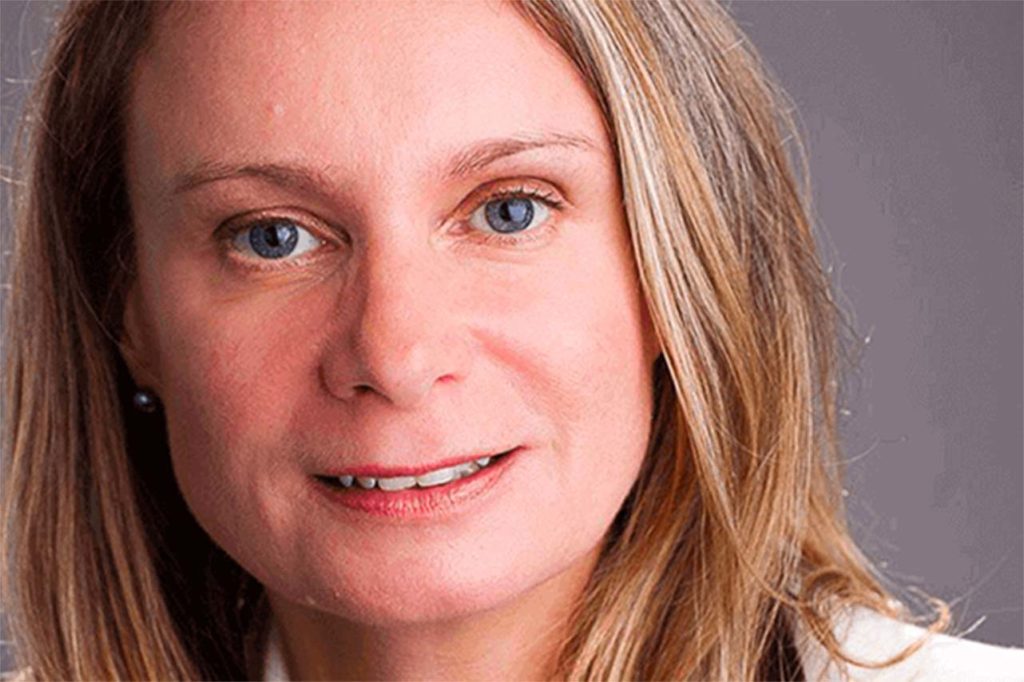 Ms. Smith is the founder of Beyond Investing, developer of the pioneering NYSE-listed US Vegan Climate ETF (VEGN).
She is also the founder of venture capital firm Beyond Impact, with more than 20 portfolio investments, one of the largest funders of early-stage animal-free companies. But she went further with Plant Veda, choosing to serve as a director of the company, to help guide growth and ensure success.
Her confidence in the skill of Plant Veda's founders and management team to build a market-leading company is matched by the growing number of retail investors who are backing the company's prospects.
Plant Veda (MILK.CN) could be the next alt-protein company to soar as the company launches distribution into US and international markets.
If growth in those markets builds as fast as it did in the Canadian market, Plant Veda (PLVFF:OTC, MILK.CN) could soon be a chart-topper. MILK.CN trades at about $1.75 CAD as of Nov 1, up 16% over just three weeks ago.
As the company releases more positive developments, expect investors to discover this alt-protein innovator that is rapidly expanding market share. Don't wait until it takes off again to take a look at Plant Veda (PLVFF:OTC, MILK.CN).
And remember, always conduct your own due diligence before investing in any company.
1https://www.bcg.com/press/23march2021-alternative-protein-market-reach-290-billion-by-2035
2https://www.cnbc.com/2021/05/20/oatly-ipo-how-the-swedish-oat-milk-became-popular-in-us.html
3Calculation based on price shift MILK.CN from Oct 13, 2021 thru November 5, 2021
4https://www.credit-suisse.com/microsites/conferences/aic/en/blog/food-disrupted-sizzling-opportunity.html
5https://www.forbes.com/sites/chloesorvino/2021/03/25/billionaire-li-ka-shings-horizons-ventures-backs-vegan-ingredient-startup/?sh=2645f44162fe
6https://web-assets.bcg.com/a0/28/4295860343c6a2a5b9f4e3436114/bcg-food-for-thought-the-protein-transformation-mar-2021.pdf
7https://vegconomist.com/fairs-and-events/who-and-gfi-make-history-setting-out-global-regulations-for-the-future-of-alternative-proteins/
8https://www.nytimes.com/2021/05/18/business/oatly-ipo-milk-substitutes.html
9https://vegconomist.com/fairs-and-events/who-and-gfi-make-history-setting-out-global-regulations-for-the-future-of-alternative-proteins/
10https://www.bcg.com/press/23march2021-alternative-protein-market-reach-290-billion-by-2035
11https://www.bcg.com/press/23march2021-alternative-protein-market-reach-290-billion-by-2035
12https://www.cnbc.com/2021/05/20/oatly-ipo-how-the-swedish-oat-milk-became-popular-in-us.html
13https://www.bloomberg.com/news/articles/2021-10-28/impossible-foods-is-said-to-eye-7-billion-value-in-fundraising
14https://plantbasednews.org/lifestyle/vegan-startup-beyond-meat-1-2-billion-valuation-ipo/
15https://reports.mintel.com/display/879257/
16https://karmaimpact.com/for-americas-plant-based-revolution-this-is-just-beginning/
17https://events.masterinvestor.co.uk/past-events/the-agrarian-revolution-opportunities-in-alternative-proteins/
18https://www.futurefoodfinance.com/article/0009_the-next-major-mega-shift-alternative-protein
19https://www.credit-suisse.com/about-us-news/en/articles/media-releases/credit-suisse-research-shows-global-food-inequality-and-waste-co-202106.html
20https://www.forbes.com/sites/oliviergarret/2019/09/11/missed-out-on-beyond-meat-buy-these-2-ipos-this-week/?sh=2a62ba1d1b60
21https://www.reuters.com/business/oprah-backed-oatly-valued-13-bln-us-debut-2021-05-20/
22https://finviz.com/screener.ashx?v=111&f=ind_packagedfoods,sec_consumerdefensive&o=-marketcap
23https://finviz.com/screener.ashx?v=111&f=ind_beveragesnonalcoholic,sec_consumerdefensive&o=-marketcap
24https://www.credit-suisse.com/media/assets/corporate/docs/about-us/research/publications/the-global-food-system-identifying-sustainable-solutions.pdf
25https://www.chathamhouse.org/sites/default/files/2020-12/2019-02-18-meat-analogues.pdf
26https://www.credit-suisse.com/about-us-news/en/articles/media-releases/credit-suisse-research-shows-global-food-inequality-and-waste-co-202106.html
27Based on current annual capacity of 50K litres and new built annual capacity for 2.5M litres

IMPORTANT NOTICE AND DISCLAIMER
This website is owned and hosted by Market Tactic Media Ltd. Articles appearing on this website should be considered paid advertisements. Market Tactic Media Ltd. and its owners, managers, employees, and assigns (collectively "the Website Host") is often paid by marketing companies to host websites on which articles profiling public companies are published. The Website Host has not been compensated by any of the profiled companies. The Website Host's compensation for articles appearing on this website is as follows:
The Website Host has been paid approximately $500 per week while the advertisement campaign is active by Command Marketing as compensation to host the article profiling Plant Veda Foods Ltd..

Command Marketing has been compensated $190,000 USD as of the date hereof under an agreement with Plant Veda Foods Ltd. for providing investor relations and marketing services to the company. Please see Plant Veda's news release dated October 22, 2021 and filed under its SEDAR profile at www.sedar.com.
SHARE OWNERSHIP
The Website Host does not own any shares of any profiled Plant Veda Foods Ltd. and has no information concerning share ownership by others of any profiled Plant Veda Foods Ltd.. The Website Host cautions readers to beware that third parties, profiled companies, and/or their affiliates may liquidate shares of the profiled companies at any time, including at or near the time you read the articles on this website and this has the potential to hurt share prices. Frequently companies profiled in such articles experience a large increase in volume and share price during the course of investor awareness marketing, which often ends as soon as the investor awareness marketing ceases.
NO SECURITIES OFFERED
The articles on this website are not, and should not be construed to be, offers to sell or solicitations of an offer to buy any security. Neither the articles on this website nor the Website Host purport to provide a complete analysis of any Plant Veda Foods Ltd. or its financial position. The Website Host is not, and does not purport to be, a broker-dealer or registered investment adviser. The articles on this website are not, and should not be construed to be, personalized investment advice directed to or appropriate for any particular investor. Any investment should be made only after consulting a professional investment advisor and only after reviewing the financial statements and other pertinent corporate information about the Plant Veda Foods Ltd.. Further, readers are advised to read and carefully consider the Risk Factors identified and discussed in the profiled Plant Veda Foods Ltd.'s SEC and/or other government filings. Investing in securities, particularly microcap securities, is speculative and carries a high degree of risk.
INDEMNIFICATION/RELEASE OF LIABILITY
By reading articles on this website, you acknowledge that you have read and understood this disclaimer, and further that to the greatest extent permitted under law, you release the Website Host, its affiliates, assigns and successors from any and all liability, damages, and injury from articles appearing on this website. You further warrant that you are solely responsible for any financial outcome that may come from your investment decisions.
LINKS TO THIRD PARTY WEBSITES
This website enables users to link to external websites not under the control of The Website Host. The Website Host has no control over the nature, content, and availability of those sites. The inclusion of any links is not intended as, and should not be construed as, a recommendation or endorsement of the content or views expressed on such external websites. The Website Host expressly disclaims any representation concerning the quality, safety, suitability, or reliability of any external websites and the content and materials contained in them. It is important for users to take necessary precautions, especially to ensure appropriate safety.
INTELLECTUAL PROPERTY
The Market Tactic is the Website Host's trademark. All other trademarks used in this communication are the property of their respective trademark holders. The Website Host is not affiliated, connected, or associated with, and is not sponsored, approved, or originated by, the trademark holders unless otherwise stated. No claim is made by the Website Host to any rights in any third-party trademarks.
FORWARD LOOKING INFORMATION
This document contains forward-looking information and forward-looking statements, within the meaning of applicable Canadian securities legislation, (collectively, "forward-looking statements"), which reflect expectations regarding Plant Veda Foods Ltd. future growth, future business plans and opportunities, expected activities, and other statements about future events, results or performance. Wherever possible, words such as "predicts", "projects", "targets", "plans", "expects", "does not expect", "budget", "scheduled", "estimates", "forecasts", "anticipate" or "does not anticipate", "believe", "intend" and similar expressions or statements that certain actions, events or results "may", "could", "would", "might" or "will" be taken, occur or be achieved, or the negative or grammatical variation thereof or other variations thereof, or comparable terminology have been used to identify forward-looking statements. These forward-looking statements include, among other things, statements relating to: (a) revenue generating potential with respect to Plant Veda Foods Ltd. industry; (b) market opportunity; (c) Plant Veda Foods Ltd. business plans and strategies; (d) services that Plant Veda Foods Ltd. intends to offer; (e) Plant Veda Foods Ltd. milestone projections and targets; (f) Plant Veda Foods Ltd. expectations regarding receipt of approval for regulatory applications; (g) Plant Veda Foods Ltd. intentions to expand into other jurisdictions including the timeline expectations relating to those expansion plans; and (h) Plant Veda Foods Ltd. expectations with regarding its ability to deliver shareholder value. Forward-looking statements are not a guarantee of future performance and are based upon a number of estimates and assumptions of management in light of management's experience and perception of trends, current conditions and expected developments, as well as other factors that management believes to be relevant and reasonable in the circumstances, as of the date of this document including, without limitation, assumptions about: (a) the ability to raise any necessary additional capital on reasonable terms to execute Plant Veda Foods Ltd. business plan; (b) that general business and economic conditions will not change in a material adverse manner; (c) Plant Veda Foods Ltd. ability to procure equipment and operating supplies in sufficient quantities and on a timely basis; (d) Plant Veda Foods Ltd. ability to enter into contractual arrangements; (e) the accuracy of budgeted costs and expenditures; (f) Plant Veda Foods Ltd. ability to attract and retain skilled personnel; (g) political and regulatory stability; (h) the receipt of governmental, regulatory and third-party approvals, licenses and permits on favorable terms; (i) changes in applicable legislation; (j) stability in financial and capital markets; and (k) expectations regarding the level of disruption as a result of COVID-19. Such forward-looking information involves a variety of known and unknown risks, uncertainties and other factors which may cause the actual plans, intentions, activities, results, performance or achievements of Plant Veda Foods Ltd. to be materially different from any future plans, intentions, activities, results, performance or achievements expressed or implied by such forward-looking statements. Such risks include, without limitation: (a) Plant Veda Foods Ltd. operations could be adversely affected by possible future government legislation, policies and controls or by changes in applicable laws and regulations; (b) public health crises such as the COVID-19 pandemic may adversely impact Plant Veda Foods Ltd. business; (c) the volatility of global capital markets; (d) political instability and changes to the regulations governing Plant Veda Foods Ltd. business operations (e) Plant Veda Foods Ltd. may be unable to implement its growth strategy; and (f) increased competition. Except as required by law, the Website Host undertakes no obligation to update or revise any forward-looking statements, whether as a result of new information, future event or otherwise.
HISTORICAL INFORMATION
Any graphs, tables or other information demonstrating the historical performance or current or historical attributes of Plant Veda Foods Ltd. or any other entity contained in this document are intended only to illustrate historical performance or current or historical attributes of Plant Veda Foods Ltd. or such entities and are not necessarily indicative of future performance of Plant Veda Foods Ltd. or such entities.