In 2007, a uranium boom rewarded investors with gains like 11,525%, 13,816%, and 183,871%

In 2010 a "mini" boom returned gains as high as 1,104%, 1,233%, and 4,575%

Now the 2022 uranium boom could be the biggest of all as two megatrends collide
Uranium was an all-star commodity in the 2010s, with growing nuclear power fueling a massive spike in demand for the heavy metal.
But then came the 2011 Tohoku Earthquake in Japan, followed by a disastrous tsunami. The salt water overwhelmed the safety features on one of Japan's oldest nuclear reactors, spreading radiation and causing fears of a meltdown.
World reaction was immediate.
Japan swore to replace all its nuclear power with alternate sources.
Germany scrapped its plans to build out more nuclear reactors, and vowed to shutter those in operation.
And the US — long skeptical of nuclear power — reaffirmed its decision to phase out nuclear power.
Soon after, the price of uranium crashed, and it has remained an afterthought in the world's commodity and energy mix.
Until now.
Why The World's Abrupt About-Face?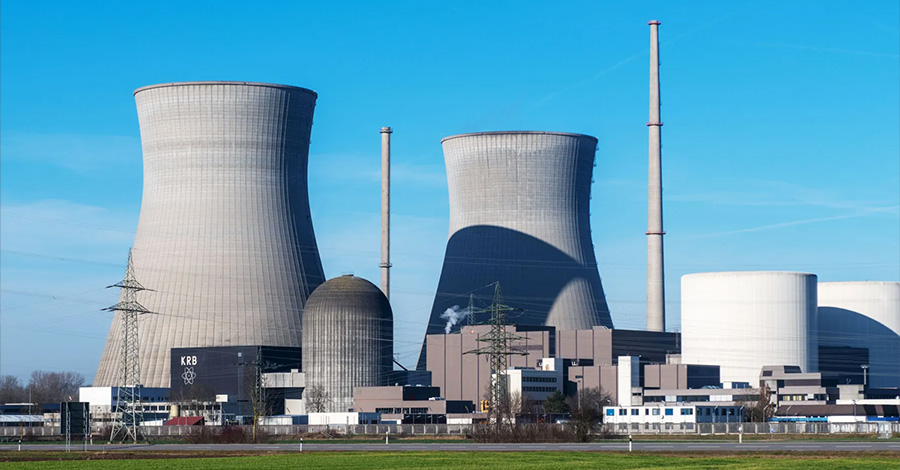 Today, nuclear power is once again ascendent.
And its rise is being fueled by those who were once its biggest critics: Environmentalists.
There are a couple of main factors driving this change of heart.
Nuclear power is now much safer than it ever has been. Indeed, even in the Tohoku earthquake and tsunami, all the newer nuclear generators survived the catastrophe without incident.
Newer generations of nuclear power reduce nuclear waste to a tiny fraction of what it used to be. Safe storage is no longer a major issue.
That's why so many countries are leaping aboard the uranium train today
South Korea's new president, Yoon Suk Yeol, is pushing forward a nuclear power program designed to allow Korea to retire its coal-fired power plants. This is a necessary step to reduce greenhouse gas emissions in line with international pledges, like The Paris Climate Accord.
Japan, long dependent on international energy imports, is restarting seven nuclear reactors, bringing the total number of reactors online to 17. Public opinion has shifted quite a bit in the last decade. Just after the Tokoku earthquake, the Japanese public was against nuclear power, 70% to 30%. Now, over half the population wants to see more nuclear power, for energy independence and to battle climate change. In 2019, Japan got 6% of its electricity from nuclear. Prime Minister Fushio's stated goal is to get that to 20-22% in short order.
Germany has backtracked on shuttering its remaining nuclear plants, as Russia's war in Ukraine has disrupted its supply of oil and natural gas. Not only is it going to keep its current nuclear power plants going — but the country is actively looking to develop new nuclear power plants.
England is doing the same — looking to increase its nuclear power generation over the coming years. Both to protect against energy blackmail of the sort Russia enjoys, and to reduce greenhouse gas emissions. It wants to jump from the 16% of electricity generation from nuclear today, to 25% by 2050. It's doing this by building eight new reactors. The first one, with over $800 million already pledged to the $20 billion+ project, could account for 7% of all electricity generation all by itself.
France — which already gets 70% of its power from nuclear — is developing six new plants, and extending the life of every single plant currently in use.
Even green California is backtracking, deciding to spend $1.4 billion to keep its Diablo Canyon nuclear plant updated and online. At the same time, the US is investigating offshore floating nuclear plant technology — which Russia has already deployed.
In short, nuclear power is not only back in trend… it is at the beginning of a major renaissance.
With newer reactors much safer than in days past, and every country struggling to keep the lights on while simultaneously reducing greenhouse gases, nuclear's best days appear just ahead of us.
And that's tremendous news for uranium miners and explorers.
Because, simply put, we don't have enough uranium supply to satisfy demand today.
With new plants coming online over the next few years, that gap will only grow wider.
Which is why, once again, uranium is headed for the one of the greatest commodity booms in a generation.
When Supply Can't Satisfy Demand
All told, there are 444 nuclear power reactors operating worldwide today.
There are another 54 under construction — which will offer nearly a 15% increase in the next few years. And a much larger increase in demand, given that many of the new reactors are far larger than older models.
There are 100 more nuclear reactors planned.
And there are a further 325 reactors proposed, in 31 different countries.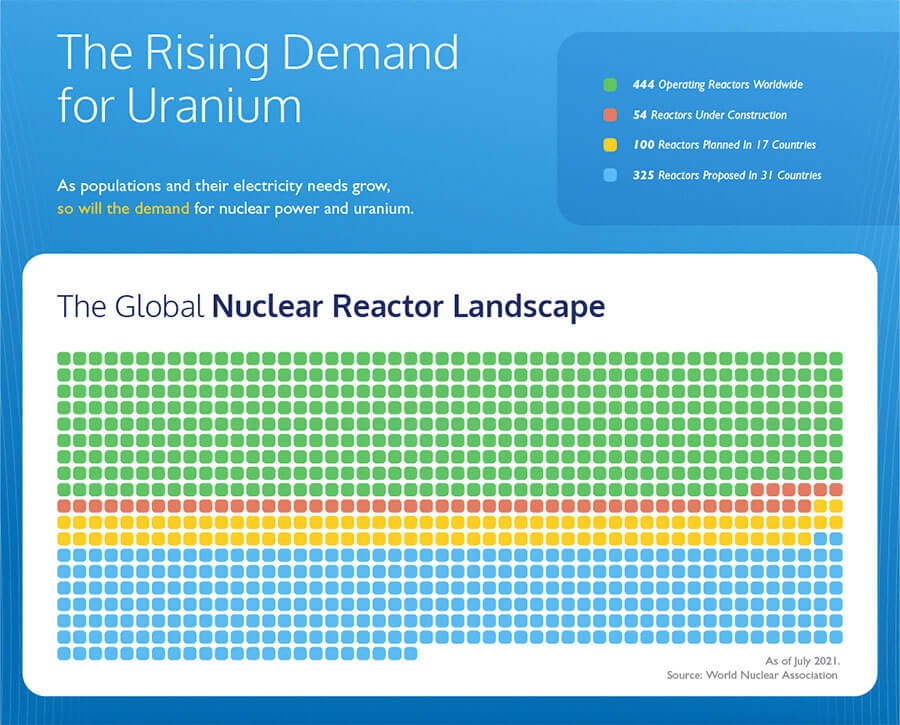 All together, it's expected that demand will reach 200 million pounds by 2040. That's up from around 125 million pounds of uranium demand today.
And today, the world only produces 119 million pounds of uranium.
We're already in a shortfall — and it's going to get worse over time.
Little wonder that uranium went from around $35 per pound to start the year, to nearly double by March.
And then the war in Ukraine hit full force. With the potential to cut supply in half.
Believe it or not, Kazakhstan is one of the key countries involved in extracting uranium.
With low labor costs and the world's largest proven reserve of uranium, Kazakhstan can pull the metal out of the ground for about $18 a pound.
Or it used to.
Today, Kazakhstan is in disarray, with political violence rampant and a civil society barely holding together.
Before Kazakhstan erupted in political violence it produced nearly 42% of the world's uranium supply.
Now, with Russia's invasion of Ukraine, another 5% of uranium production is currently embargoed, creating the ultimate squeeze. And with a number of smaller producers in the region facing similar issues, the world's uranium supply has been cut in half.
More Than Half of Global Uranium Supply Under Severe Threat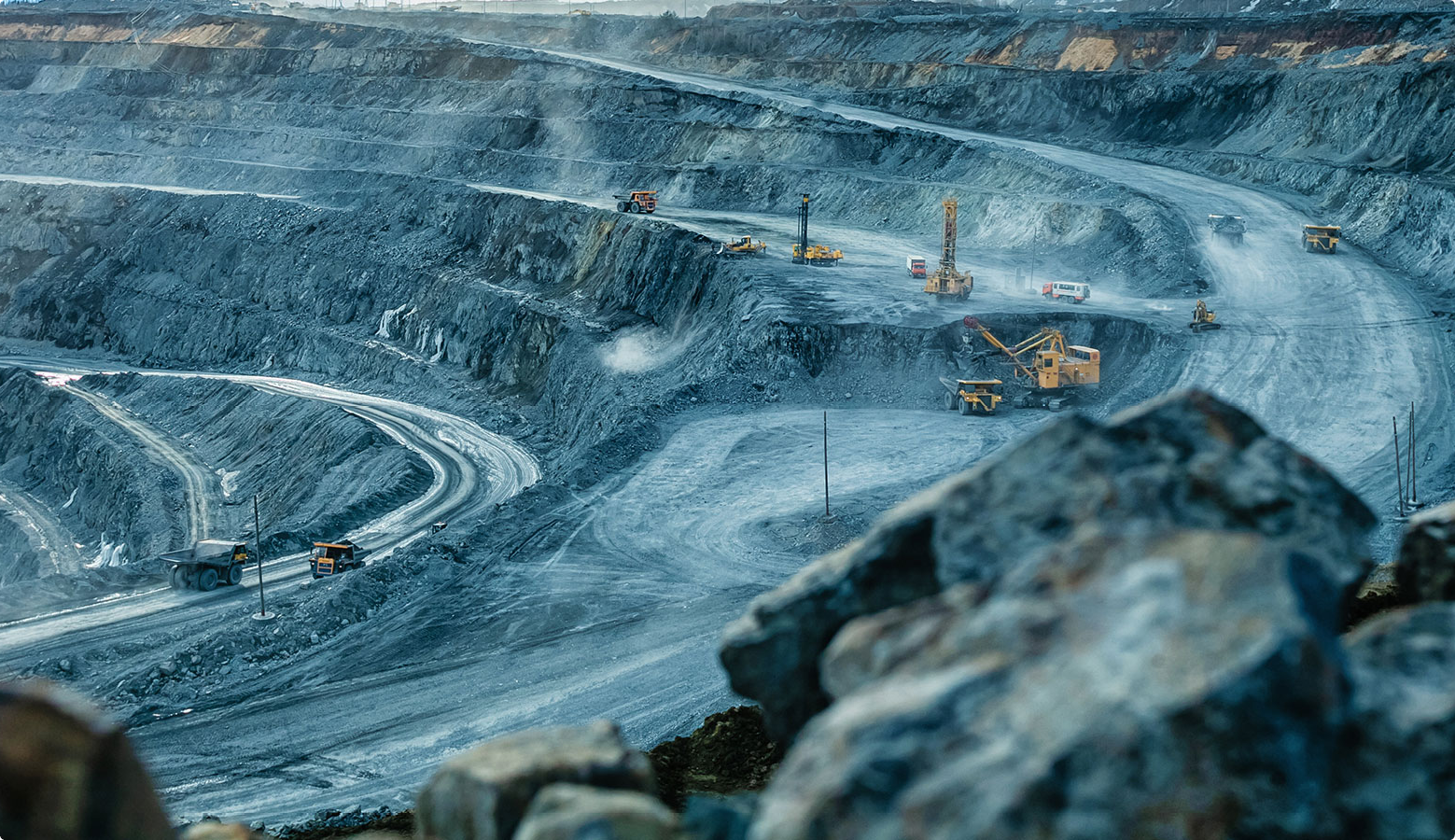 Major supply disruptions from Central Asia and Eastern Europe, with more than half the world's annual production, are sending nuclear power operators on a frenzied hunt to lock in new sources.
Producers with a focus on Russia, Kazakhstan, and Ukraine are in freefall.
The colossal Kazakhstan state-owned mining company Kazatomprom, the world's top uranium producer, has lost a whopping 44% of its total value in a few short months. Then, in November 2021, political violence inflamed Kazakhstan, the world's biggest producer and home to 41% of global uranium supplies.6
Investors fled the market, concluding the country was no longer a safe and stable destination for Western capital.
Now the Russian invasion of Ukraine threatens to disrupt supply from the world's ninth-largest producer.7
Russian President Vladimir Putin is aiming for the same strategic prize that launched Hitler's attack on Ukraine in World War Two.8 Greater Ukraine leads Europe in proven recoverable reserves of uranium ores, ranking seventh in the world overall.9
Russia gets 21% of its electricity from nuclear-powered plants, and is quickly expanding its nuclear reliance.10 The country produces about 2,846 tonnes of the yellow metal per year.11 Yet that number is only about half of its annual requirement of 5,500 tonnes per year, according to the non-profit World Nuclear Association.12
Russia is on a quest to control the world's uranium, starting with the resources right outside its back door.
And that is setting up a once-in-a-lifetime opportunity as the Western world scrambles to lock in alternate supply.
Now the focus turns to the U.S. and Canada to ramp up exploration and production.
The Greatest Opportunity Of All Is In The Junior Mining Sector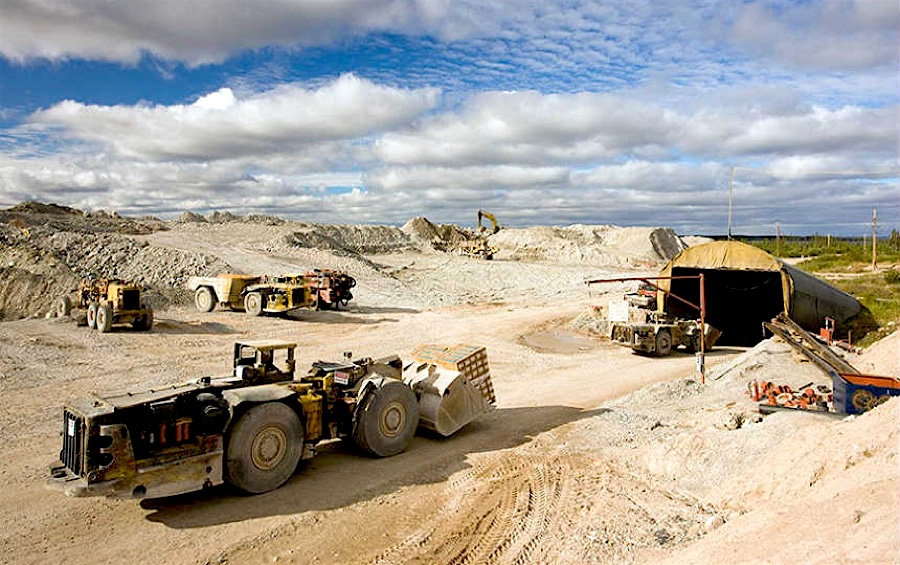 "In short, you want to own the miners." 
Western nations are scrambling to find new suppliers, unleashing one of the greatest commodity booms in history.
A brief but powerful bull market that could launch the fortunes of a handful of obscure mining companies and the investors who back them.
Just look what happened in past uranium bull markets:
The 2007 boom, when uranium rallied from $15 to a high of $136, rewarded junior mining company investors with gains like 11,525%, 13,816%, and 183,871%.4
The 2010 "mini" boom returned gains as high as 1,104%, 1,233%, and 4,575%.5
Now the 2022 uranium boom could be the biggest of all as two megatrends collide.
Junior Explorers And Developers Are Seeing The Uranium Market's Greatest Opportunity Ever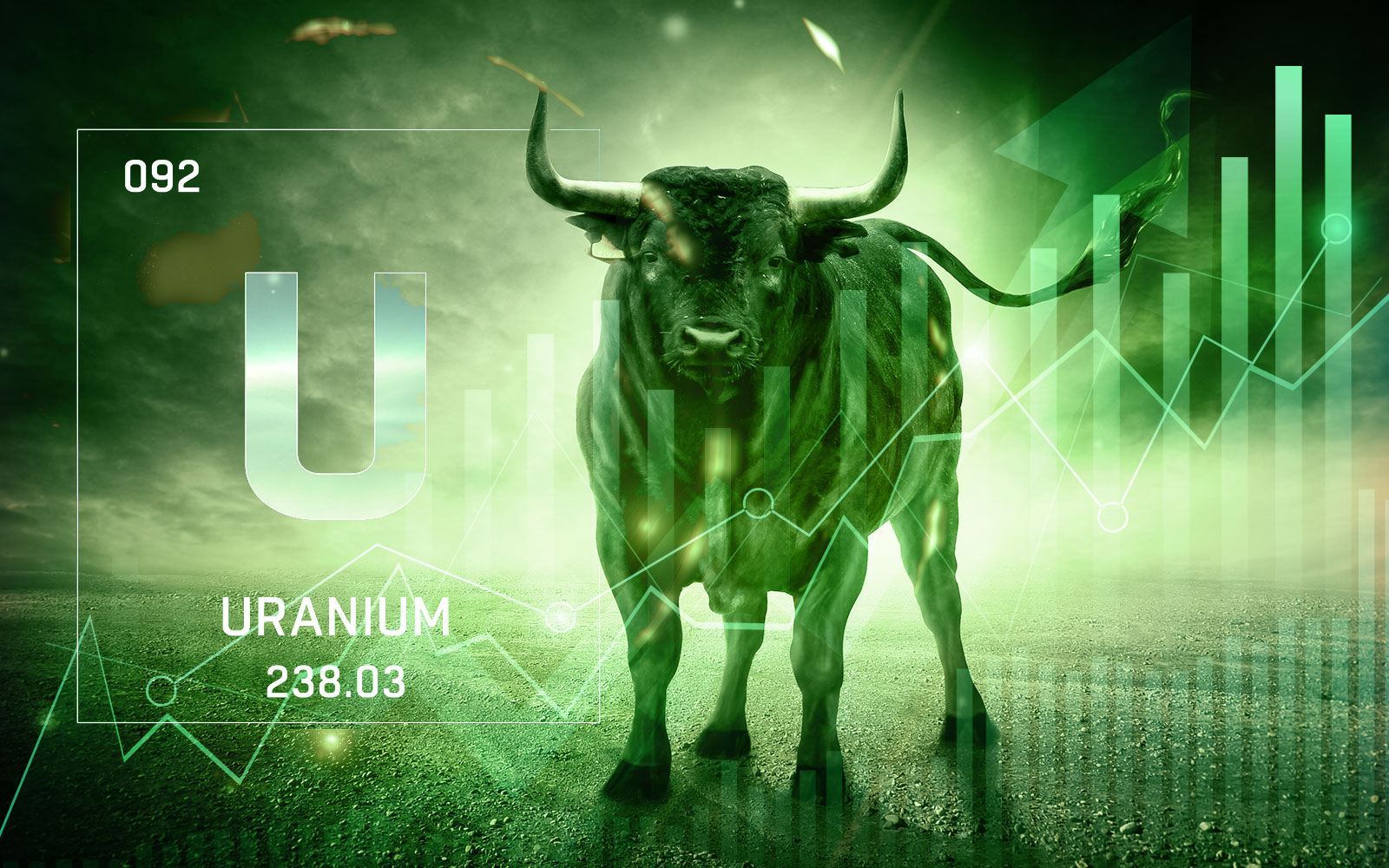 You can see it already forming. The most well-known Western producers are skyrocketing.
Uranium Energy Corp (UEC) is up an incredible 69% since January 27
Ur-Energy (URG) is on a tear, up 46% in the same time
Denison Mines (DNN) is right behind, soaring 43%
Cameco (CCJ) has jumped 37% so far
But that's just the beginning.
The Biggest Opportunities Are In Lesser-Known Juniors That Are Creating New Supply
Because they're the ones the world must rely on to make up a vast and growing supply deficit as the world turns once again to nuclear power.
Especially juniors like Basin Uranium (CNSX: NCLR), a Canadian junior that has locked in a project at the heart of one of the world's highest grade uranium deposits.
Tiny Canadian Explorer/Developer Could Ride a 10-year Uranium Bull Market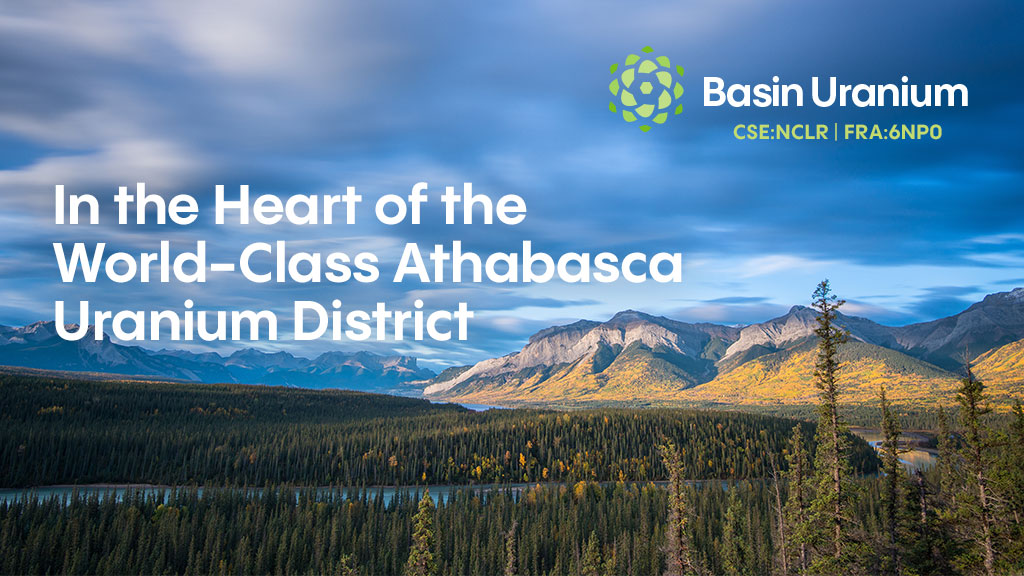 Basin Uranium has landed a project in the Athabasca Basin, a region universally regarded as the top source for high-grade uranium in the world.
And they've already signed an agreement with another up and coming uranium explorer, Skyharbour Resources, for one of the most exciting new sites in the area.
Past exploration on the property has been highly promising, suggesting this stock could be primed to deliver big time in the coming year.
With the economic, social and regulatory stars aligning, now is the time to get in on the ground floor for what we think could be the biggest uranium bull run in history. But if you want to get in on the act, you'll have to act fast.
Uranium Prices Have Already Soared 69% In 18 Months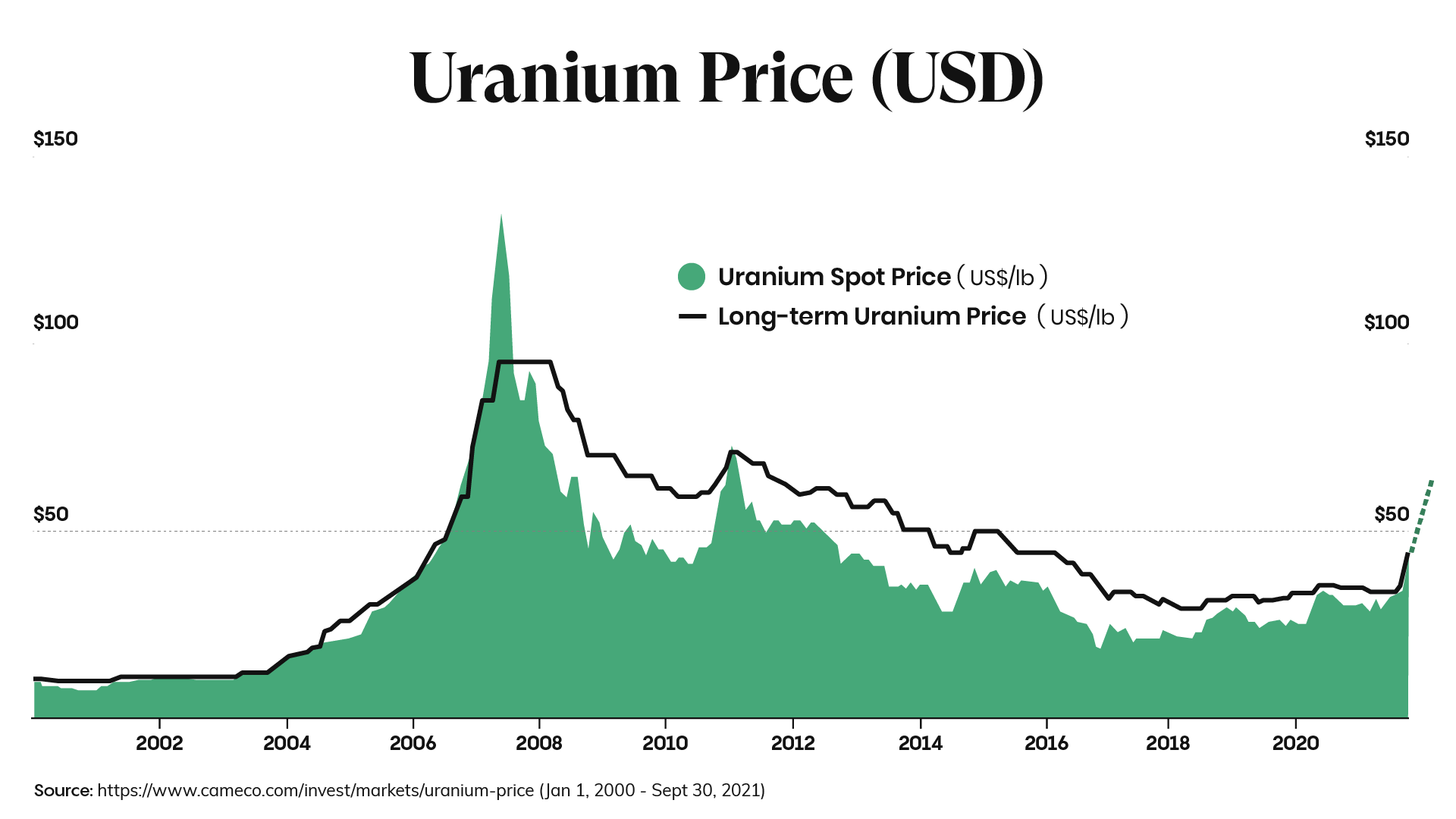 From September through November, the market went on a remarkable run which saw spot prices climb to their highest level in almost a decade.
But this is just the pre-game show. The real fireworks are expected to begin later in the year, with clean energy initiatives firmly taking root.
As things stand, the current uranium spot price ranges from $45-46 per pound of U308, representing a dramatic leap of more than 70% in the last 18 months.
All of which has motivated investors and hedge funds to rush into uranium stocks, accelerating prices even higher. Over just the last year:
Denison Mines (NYSE:DNN) soared 118%
Western Uranium & Vanadium Corp. (CSE: WUC | OTCQX: WSTRF) shot up 112%.
Energy Fuels (NYSE:UUUU) skyrocketed 109%
Cameco (NYSE:CCJ) climbed 77%
To many, uranium's resurgence has been sudden. For the past decade, uranium stocks have been in the doldrums.
But things look very different today. First, safety standards have changed dramatically in recent years. Technology has evolved and safety standards have been overhauled. Today's nuclear power is safe, reliable, consistent, and clean.11
This brings us to the second point: The drive towards net zero requires nuclear power.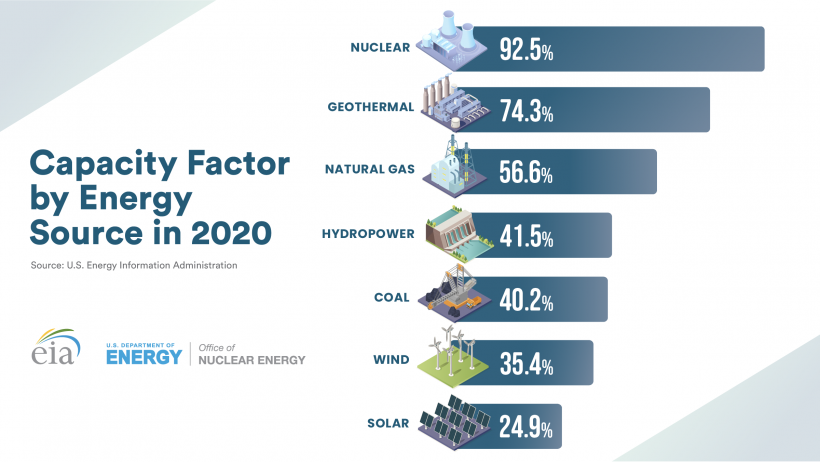 Renewable energies such as wind, solar and hydro can all play a part, but these are "swing" power sources, meaning they are dependent on weather conditions, and are far from capable of providing the capacity or consistency of power the world needs in their current state.
Uranium on the other hand is a "base load" power source. The unavoidable truth is, if the world is to transition beyond fossil fuels, it needs nuclear.
For the First Time in History, Political Agendas Align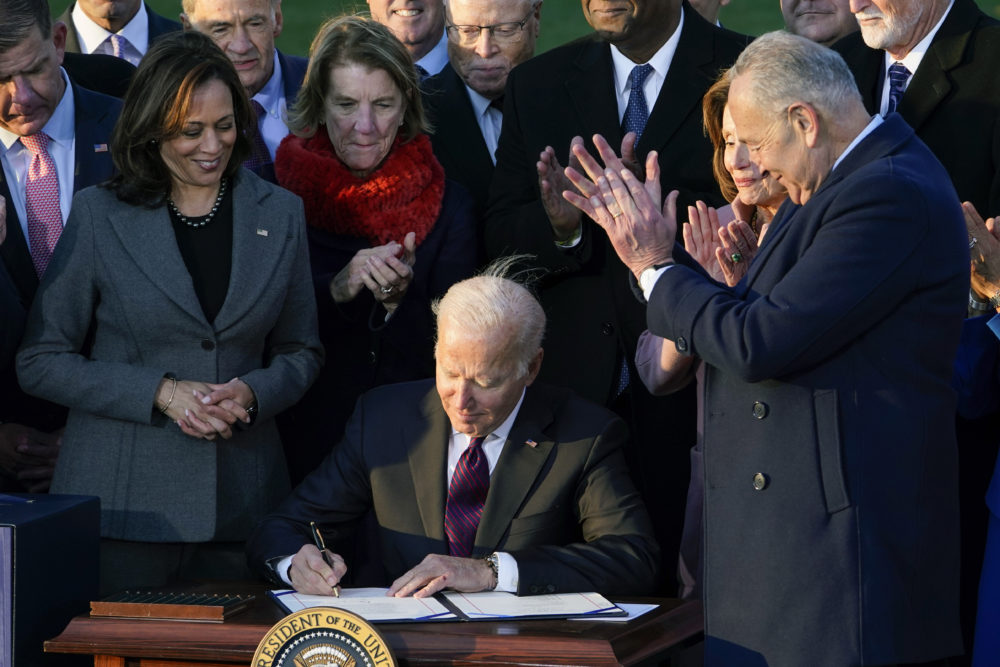 The current administration has enthusiastically supported nuclear as a means of achieving both climate and energy plans.
Congress passed the Nuclear Energy Innovation and Modernization Act (NEIMA) in 2018 which encourages public/private partnerships to accelerate innovation in nuclear energy.
Even Republicans are pitching nuclear energy as a way forward for cleaner energy.12 Texas Governor Gregg Abbott has called on regulators to build more nuclear energy plants, upgrade existing plants, and penalize renewables.13
Figures from across the political spectrum, like Bill Gates and Elon Musk have voiced their support.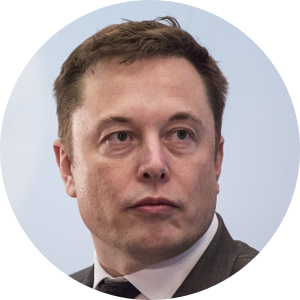 For Elon Musk, the movement to rid the world of nuclear is misguided. "We should add more nuclear energy, or at least not shut down the nuclear power plants that we already have," he said.14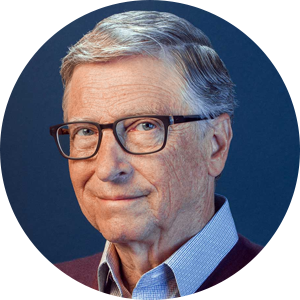 Bill Gates, meanwhile, is betting on nuclear power big time. His company, TerraPower, was selected to be part of the government's Advanced Reactor Demonstration Program (ARDP), and aims to build a fully functional nuclear power reactor within seven years.15
While nuclear power currently only accounts for 20 percent of total US electricity generation, the $1 Trillion infrastructure bill earmarked $73 billion for the expansion of nuclear power.16
New plants are being planned and uranium exploration activities are ramping up to record levels.17
Sprott's 41.3 Million lb. Uranium Purchase Adds Fuel To The Fire
Even the big-time mining magnates are taking notice of the money pouring into this sector.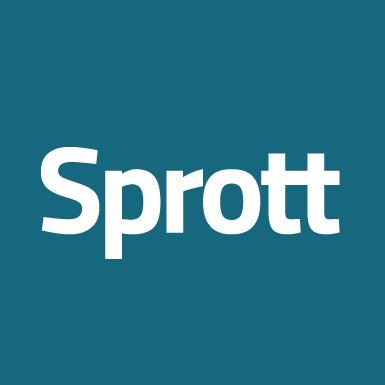 The arrival of the Canadian-listed Sprott Physical Uranium Trust is one of the biggest game-changers. Having raised almost $1 billion dollars so far with the potential for significantly more through a US$3.5 billion at-the-market offering, they set out on a buying spree of epic proportions, snapping up 41.3 million lbs. of uranium.18
In short, demand is surging and supply is struggling to keep up.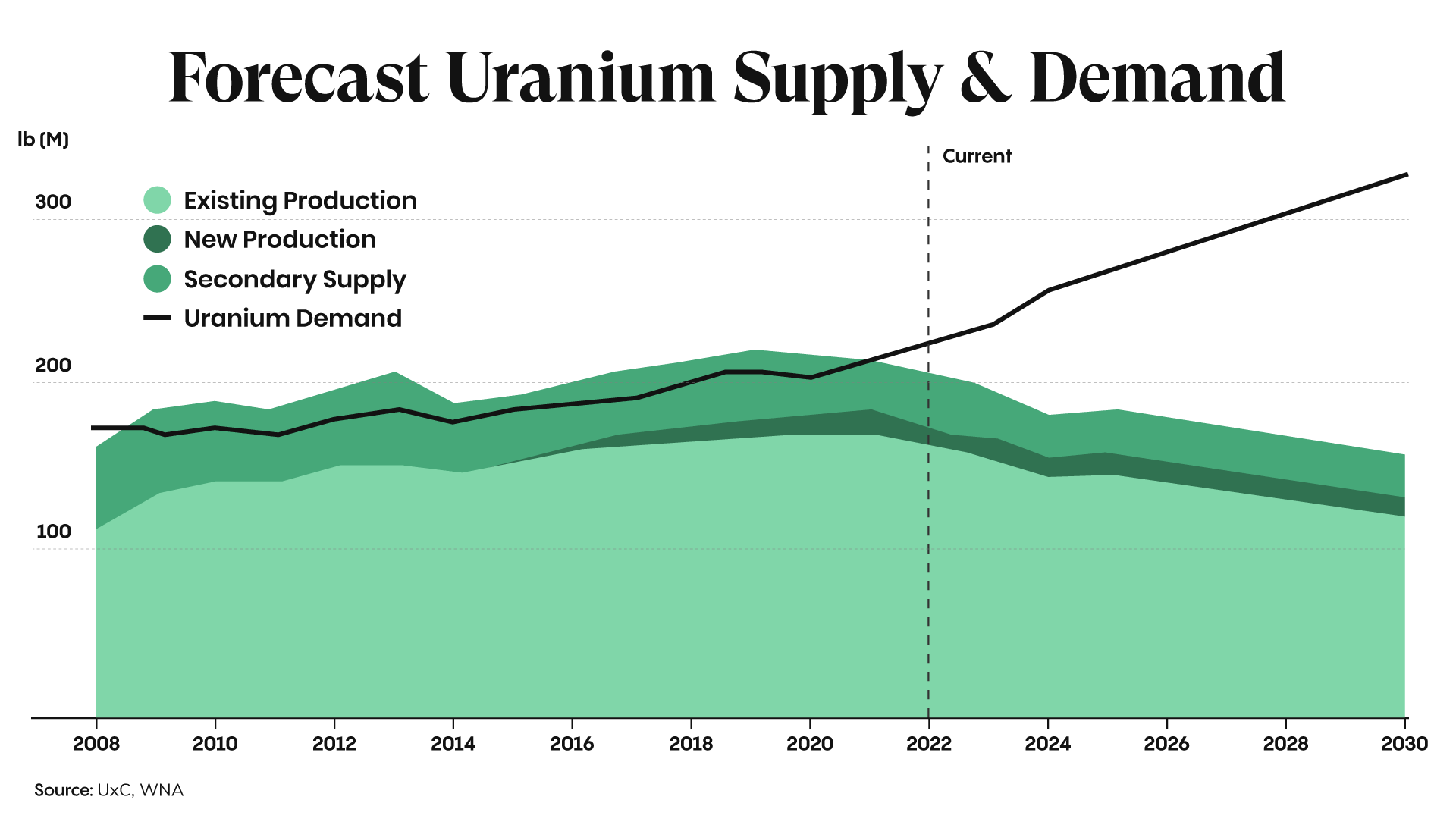 Nations Compete for a Limited Supply of Uranium
It's not only the US that is betting big on uranium:
China is relying on a $440 billion nuclear buildout to help it meet its climate goals.19
France is building new nuclear reactors with President Macron putting nuclear power at the heart of its 2030 plan for reindustrialization.20
Russia has ambitious plans, including the world's first floating nuclear power plant in Siberia.21
The narrative couldn't be clearer. Small wonder that the people at Basin Uranium Corporation (CNSX: NCLR), sitting on a highly prospective land package in the middle of one of the richest uranium regions in the world, are so excited.
"Grade-A" Uranium At The Mann Lake Project
With its own capacity for uranium production limited, the US has begun looking to its nearby friends. Thankfully its northern neighbour has the leading source of high-grade uranium in the world.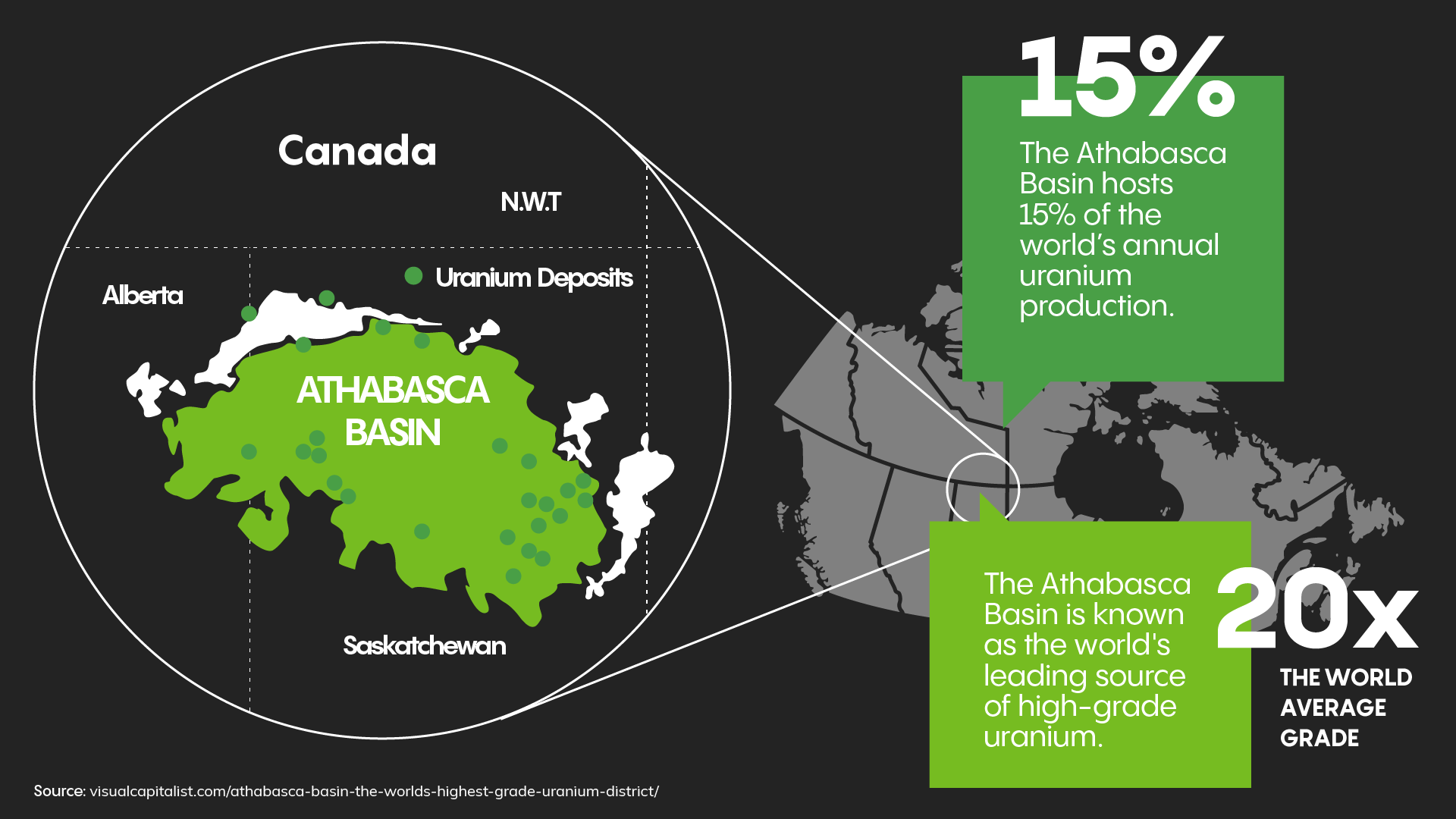 That's why all eyes are turning to the Athabasca Basin in Northern Saskatchewan and Alberta. Grades are as much as 20 times higher here than anywhere else in the world.22 What's more, with 606,600 tonnes of known reserves, this region currently supplies 15% of the world's uranium.23
Basin Uranium has partnered with Skyharbour Resources to earn in on one of the most promising land packages in the area, Mann Lake.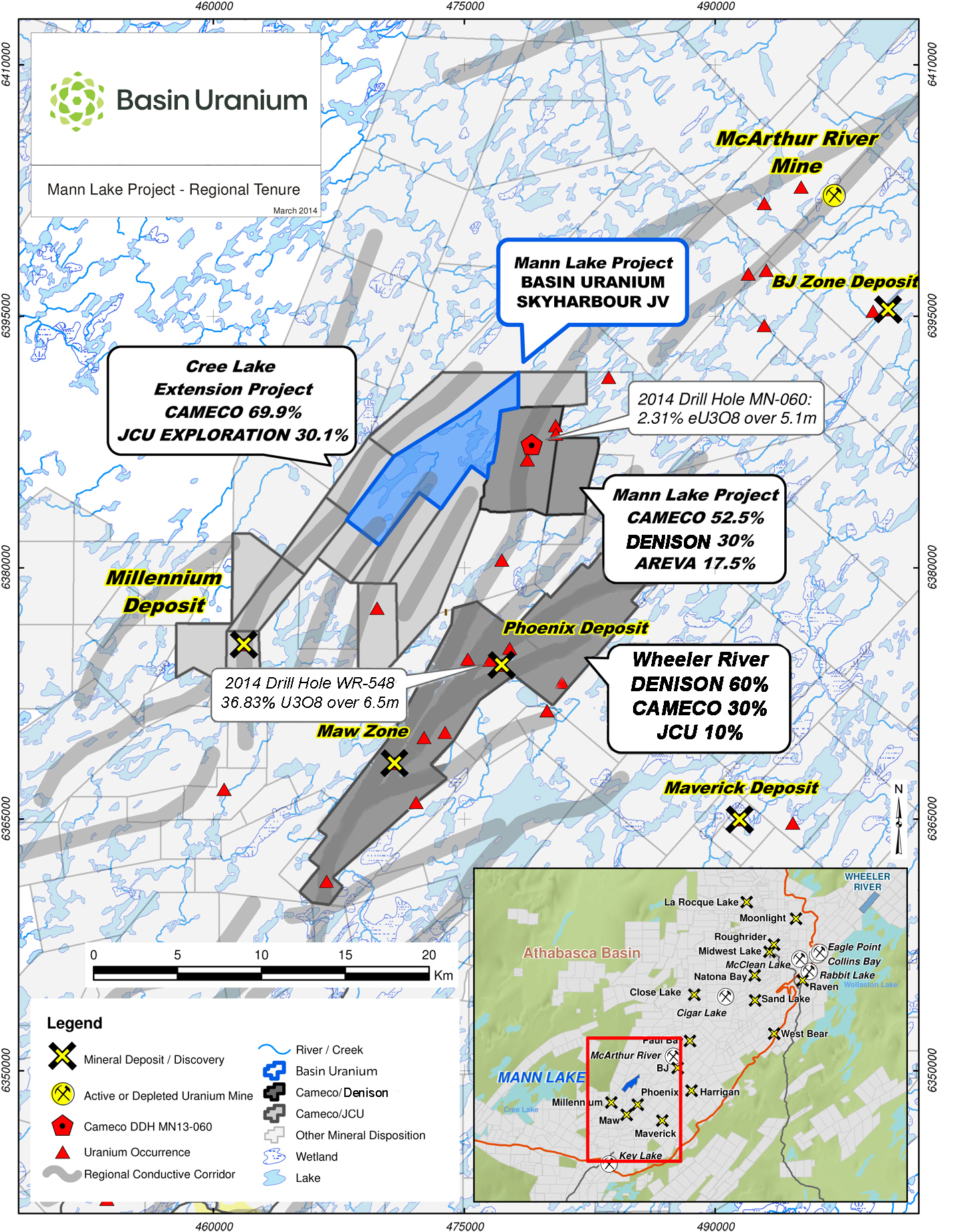 This 3,472-hectare project boasts a highly strategic location, sandwiched between the McArthur River mine 25km to the northeast (host to 273.6 million lbs in proven and probable reserves), and Cameco's Millennium uranium deposit 15 km to the southwest (host to 75.9 million lbs in proven and probable reserves).
To date this project has seen over $3 million in past exploration. In 2014, they carried out a ground-based EM survey focused on a zone where a favourable 2km long aeromagnetic low coincides with possible basement conductor trends.
Current targets focus on the main NE trending conductive corridors appear to concentrate uranium as shown at Mann Lake to the East. It is these kinds of basement corridors where significant concentrations of uranium are typically found.  Drilling will follow on these targets in the near term.
Mann Lake looks set to propel this relatively small exploration company into the big leagues. They believe that 2022 will be the year when the magic happens as the company will aggressively focus on exploration and development of its prime real estate in the Athabasca Basin.
So What Does It All Mean?
Basin Uranium Corporation (CNSX: NCLR) is in a sweet spot for investors. It has a ready market with the US and other countries looking to ramp up uranium production, and it benefits from a highly experienced team with a track record of building successful companies.
At the same time, with exploration still in its beginning stages, Basin Uranium has yet to attract the same level of speculation we've seen with other stocks in the same market. But as has happened many times before, once junior mining companies prove out resources, things tend to move very quickly.
You can find out more about Basin Uranium via their website. Once you've completed your due diligence, call your broker and put Basin Uranium Corporation (CNSX: NCLR) at the top of your watchlist.
1.https://time.com/6117041/nuclear-energy-reactors-green/ 2.https://www.mining.com/uranium-snapshot-eight-juniors-of-interest/ 3.https://geology.utah.gov/map-pub/survey-notes/energy-news/energy-news-uranium-fuel-for-the-21st-century/ 4.https://www.world-nuclear.org/information-library/nuclear-fuel-cycle/uranium-resources/supply-of-uranium.aspx 5.Ibid 6.https://www.jstor.org/stable/43965115 7.https://www.forbes.com/sites/erictegler/2022/02/23/as-russian-forces-roll-into-eastern-ukraine-putin-grabs-yet-another-prizeores-and-energy/ 8.https://cnpp.iaea.org/countryprofiles/Russia/Russia.htm 9.https://world-nuclear.org/information-library/nuclear-fuel-cycle/mining-of-uranium/world-uranium-mining-production.aspx 10.https://world-nuclear.org/information-library/country-profiles/countries-o-s/russia-nuclear-fuel-cycle.aspx 11.Home • Net Zero Needs Nuclear 12.House Republicans pitch nuclear, natural gas as 'cleaner' energy future | TheHill 13.Gov. Greg Abbott tells electricity regulators to encourage building more power plants, penalize renewable energy (kristv.com) 14.Elon Musk interview with Italian TechWeek https://www.youtube.com/watch?v=4_LAXD-f9e0 15.https://www.cnbc.com/2021/04/08/bill-gates-terrapower-is-building-next-generation-nuclear-power.html 16.Infrastructure bill: $1tn for clean energy, internet, trains and more – BBC News 17.US FY2022 budget request includes record for nuclear energy: Nuclear Policies – World Nuclear News (world-nuclear-news.org) 18.Sprott's Physical Uranium Trust to Change the Uranium Game | Crux Investor Articles 19.China's climate goals hinge on a $440bn nuclear buildout – News for the Energy Sector (energyvoice.com) 20.Macron says France will construct new reactors: Nuclear Policies – World Nuclear News (world-nuclear-news.org) 21.World's first floating nuclear power plant fuels Russia's Arctic ambitions | Financial Times (ft.com) 22.https://investingnews.com/innspired/uranium-exploration-athabasca-basin-canada/ 23.https://resourceworld.com/how-athabasca-uranium-deposits-were-discovered-from-the-air/
IMPORTANT NOTICE AND DISCLAIMER
This website is owned and hosted by Market Tactic Media Ltd. Articles appearing on this website should be considered paid advertisements. Market Tactic Media Ltd. and its owners, managers, employees, and assigns (collectively "the Website Host") is often paid by marketing companies to host websites on which articles profiling public companies are published. The Website Host has not been compensated by any of the profiled companies. The Website Host's compensation for articles appearing on this website is as follows:
The Website Host has been paid approximately $500 per week while the advertisement campaign is active by Command Marketing as compensation to host the article profiling Basin Uranium Corporation
SHARE OWNERSHIP
The Website Host does not own any shares of any profiled Basin Uranium Corporation and has no information concerning share ownership by others of any profiled Basin Uranium Corporation The Website Host cautions readers to beware that third parties, profiled companies, and/or their affiliates may liquidate shares of the profiled companies at any time, including at or near the time you read the articles on this website and this has the potential to hurt share prices. Frequently companies profiled in such articles experience a large increase in volume and share price during the course of investor awareness marketing, which often ends as soon as the investor awareness marketing ceases.
NO SECURITIES OFFERED
The articles on this website are not, and should not be construed to be, offers to sell or solicitations of an offer to buy any security. Neither the articles on this website nor the Website Host purport to provide a complete analysis of any Basin Uranium Corporation or its financial position. The Website Host is not, and does not purport to be, a broker-dealer or registered investment adviser. The articles on this website are not, and should not be construed to be, personalized investment advice directed to or appropriate for any particular investor. Any investment should be made only after consulting a professional investment advisor and only after reviewing the financial statements and other pertinent corporate information about Basin Uranium Corporation Further, readers are advised to read and carefully consider the Risk Factors identified and discussed in the profiled Basin Uranium Corporation's SEC and/or other government filings. Investing in securities, particularly microcap securities, is speculative and carries a high degree of risk.
INDEMNIFICATION/RELEASE OF LIABILITY
By reading articles on this website, you acknowledge that you have read and understood this disclaimer, and further that to the greatest extent permitted under law, you release the Website Host, its affiliates, assigns and successors from any and all liability, damages, and injury from articles appearing on this website. You further warrant that you are solely responsible for any financial outcome that may come from your investment decisions.
LINKS TO THIRD PARTY WEBSITES
This website enables users to link to external websites not under the control of The Website Host. The Website Host has no control over the nature, content, and availability of those sites. The inclusion of any links is not intended as, and should not be construed as, a recommendation or endorsement of the content or views expressed on such external websites. The Website Host expressly disclaims any representation concerning the quality, safety, suitability, or reliability of any external websites and the content and materials contained in them. It is important for users to take necessary precautions, especially to ensure appropriate safety.
INTELLECTUAL PROPERTY
The Market Tactic is the Website Host's trademark. All other trademarks used in this communication are the property of their respective trademark holders. The Website Host is not affiliated, connected, or associated with, and is not sponsored, approved, or originated by, the trademark holders unless otherwise stated. No claim is made by the Website Host to any rights in any third-party trademarks.
FORWARD LOOKING INFORMATION
This document contains forward-looking information and forward-looking statements, within the meaning of applicable Canadian securities legislation, (collectively, "forward-looking statements"), which reflect expectations regarding Basin Uranium Corporation future growth, future business plans and opportunities, expected activities, and other statements about future events, results or performance. Wherever possible, words such as "predicts", "projects", "targets", "plans", "expects", "does not expect", "budget", "scheduled", "estimates", "forecasts", "anticipate" or "does not anticipate", "believe", "intend" and similar expressions or statements that certain actions, events or results "may", "could", "would", "might" or "will" be taken, occur or be achieved, or the negative or grammatical variation thereof or other variations thereof, or comparable terminology have been used to identify forward-looking statements. These forward-looking statements include, among other things, statements relating to: (a) revenue generating potential with respect to Basin Uranium Corporation industry; (b) market opportunity; (c) Basin Uranium Corporation business plans and strategies; (d) services that Basin Uranium Corporation intends to offer; (e) Basin Uranium Corporation milestone projections and targets; (f) Basin Uranium Corporation expectations regarding receipt of approval for regulatory applications; (g) Basin Uranium Corporation intentions to expand into other jurisdictions including the timeline expectations relating to those expansion plans; and (h) Basin Uranium Corporation expectations with regarding its ability to deliver shareholder value. Forward-looking statements are not a guarantee of future performance and are based upon a number of estimates and assumptions of management in light of management's experience and perception of trends, current conditions and expected developments, as well as other factors that management believes to be relevant and reasonable in the circumstances, as of the date of this document including, without limitation, assumptions about: (a) the ability to raise any necessary additional capital on reasonable terms to execute Basin Uranium Corporation business plan; (b) that general business and economic conditions will not change in a material adverse manner; (c) Basin Uranium Corporation ability to procure equipment and operating supplies in sufficient quantities and on a timely basis; (d) Basin Uranium Corporation ability to enter into contractual arrangements; (e) the accuracy of budgeted costs and expenditures; (f) Basin Uranium Corporation ability to attract and retain skilled personnel; (g) political and regulatory stability; (h) the receipt of governmental, regulatory and third-party approvals, licenses and permits on favorable terms; (i) changes in applicable legislation; (j) stability in financial and capital markets; and (k) expectations regarding the level of disruption as a result of COVID-19. Such forward-looking information involves a variety of known and unknown risks, uncertainties and other factors which may cause the actual plans, intentions, activities, results, performance or achievements of Basin Uranium Corporation to be materially different from any future plans, intentions, activities, results, performance or achievements expressed or implied by such forward-looking statements. Such risks include, without limitation: (a) Basin Uranium Corporation operations could be adversely affected by possible future government legislation, policies and controls or by changes in applicable laws and regulations; (b) public health crises such as the COVID-19 pandemic may adversely impact Basin Uranium Corporation business; (c) the volatility of global capital markets; (d) political instability and changes to the regulations governing Basin Uranium Corporation business operations (e) Basin Uranium Corporation may be unable to implement its growth strategy; and (f) increased competition. Except as required by law, the Website Host undertakes no obligation to update or revise any forward-looking statements, whether as a result of new information, future event or otherwise.
HISTORICAL INFORMATION
Any graphs, tables or other information demonstrating the historical performance or current or historical attributes of Basin Uranium Corporation or any other entity contained in this document are intended only to illustrate historical performance or current or historical attributes of Basin Uranium Corporation or such entities and are not necessarily indicative of future performance of Basin Uranium Corporation or such entities.