America's Energy Future Isn't In The Ground… It's In The Sky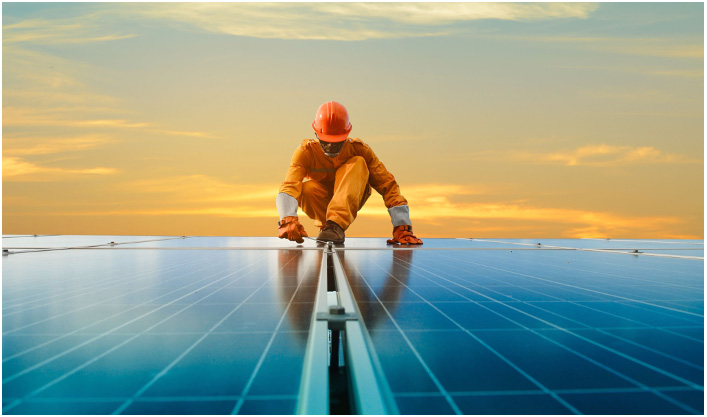 Energy costs are soaring…
Bloomberg recently reported U.S. power prices rose at their highest rates in 41 years… with electricity bills for U.S. consumers recording their biggest jump since 1981.1
Experts predict consumers can expect to pay up to 28% more to heat their homes this winter.2 That's on top of record residential electricity prices Americans are already paying: a whopping 14.8 cents/ per kilowatt hour today3… almost double what it was 20 years ago.
But one company has a unique solution to soaring energy costs – one that's already being delivered to thousands of homes across North America… and sought after by some of the world's most valuable companies.
In fact, it could potentially help answer one of the biggest problems affecting American households today.
It's a rapidly growing independent power producer tapping one of the few major energy sources that's actually declined in cost…by a whopping 85%… since 20104.
It's already developed dozens of behind-the-meter solar power plants (which generate enough energy to rank the company as one of the top 20 solar developers in the nation).
And it's trusted by Fortune 100 companies like Honeywell International, who work with this company to lower their energy costs and reduce their carbon footprint – another booming market worth tens of billions of dollars (as you'll soon see).
But that's not all…
This company is also pioneering a new wave of "community solar gardens" – a concept that utilizes nearby vacant land to provide low-cost energy to neighborhoods around the nation.
In fact, they have the potential to transform the entire residential energy market as we know it – triggering a switch away from large-scale, regional power plants to small, localized power production. And they're helping lead the charge with goals of developing solar gardens across the entire United States in the coming years.
A Newly-Emerging $607 Billion Market
Solar companies could represent one of the biggest investment opportunities we see in the next ten years. Here's why…
In the last decade, the U.S. solar market grew by a whopping 42% annually5…
It's expected to increase another 27% this year alone…
And by 2032, renowned research firm Wood Mackenzie expects the industry to triple… again6.
This rampant growth is being driven by a dramatic reduction in solar costs:
The average cost of solar (PV) panels has dropped almost 70% since 2014.
The cost of electricity from concentrated solar radiation (CSP) has fallen by over 50% in the last decade.7
And the global weighted-average levelized cost of electricity for newly commissioned utility-scale solar photovoltaic (PV) projects fell by 85% between 2010 and 2020, from $0.381/kWh to $0.057/kWh.8
Guggenheim Security analysts report that solar is now 33% cheaper than gas power in the U.S…. making solar not only the smart, cost-effective solution for utility companies, but a no-brainer for investors.
In fact, Vision Research Reports estimate the total solar energy systems market could be worth a staggering $607 billion within the eight years.9
Companies Are Throwing Billions Into The Renewable Energy Market
Google is using solar panels to help power its data centers and offices across the globe… and has made a $3.5 billion investment through power purchase agreements, contracting to procure at least 3,000 megawatts of power across 26 solar projects.10
Amazon has 379 renewable energy projects, including 225 rooftop solar projects11… and has become the largest corporate buyer of clean energy… in the world!12
Over the past three years, Amazon has purchased a whopping 15.7 gigawatts of solar and wind energy – 5 times the amount purchased by Google!
And it's not just the tech companies investing in clean energy.   Some of the world's largest oil and gas companies are also investing in renewable energy.
BP is working towards a 2050 net zero goal. In June 2022, it purchased a massive 40.5% stake in the Asian Renewable Energy Hub.
And ExxonMobil recently announced plans to invest more than $15 billion over the next 6 years on lower greenhouse gas emissions initiatives.13
The drive towards clean, renewable energy is clear. 
With the goal of becoming carbon neutral part of a global initiative you could expect this company to stay in the news for years to come.
That's why now could be the very best time to do your research. Sign up with your email address to receive an exclusive report on this fast-growing opportunity.
1 https://www.bloomberg.com/news/articles/2022-09-13/us-electricity-prices-rise-most-in-41-years-as-inflation-endures
2 https://www.reuters.com/world/us/us-home-heating-bills-expected-surge-this-winter-eia-2022-10-12
3 https://www.bloomberg.com/news/articles/2022-09-13/us-electricity-prices-rise-most-in-41-years-as-inflation-endures
4 https://www.powermag.com/the-solar-and-wind-power-cost-value-conundrum/
5 https://www.mordorintelligence.com/industry-reports/united-states-solar-energy-market
6 https://www.seia.org/sites/default/files/2022-03/USSMI%20-%202021%20YIR%20ES.pdf
7 https://www.energy.gov/eere/solar/solar-energy-united-states
8 https://www.powermag.com/the-solar-and-wind-power-cost-value-conundrum/
9 https://www.visionresearchreports.com/solar-energy-systems-market/39509
10 https://www.environmentalleader.com/2022/05/google-has-invested-3-5-billion-in-renewable-energy-projects-worldwide/#:~:text=Indeed%2C%20power%20purchase%20agreements%2C%20or,That's%20a%20%243.5%20billion%20investment.
11 https://www.aboutamazon.com/news/sustainability/amazon-expands-its-renewable-energy-projects-with-firsts-in-brazil-india-and-poland
12 https://www.aboutamazon.com/news/sustainability/amazon-extends-position-as-worlds-largest-corporate-buyer-of-renewable-energy
13 https://corporate.exxonmobil.com/news/newsroom/news-releases/2021/1109_why-we-are-investing-15-billion-in-a-lower-carbon-future
Legal Notice: This website is owned and hosted by Market Tactic Media Ltd. Articles appearing on this website should be considered paid advertisements. Market Tactic Media Ltd. and its owners, managers, employees, and assigns (collectively "the Website Host") is often paid by marketing companies to host websites on which articles profiling public companies are published. The articles on this website are not, and should not be construed to be, offers to sell or solicitations of an offer to buy any security. Neither the articles on this website nor the Website Host purport to provide a complete analysis of any company or its financial position. The Website Host is not, and does not purport to be, a broker-dealer or registered investment adviser. The articles on this website are not, and should not be construed to be, personalized investment advice directed to or appropriate for any particular investor. Any investment should be made only after consulting a professional investment advisor and only after reviewing the financial statements and other pertinent corporate information about the company. Further, readers are advised to read and carefully consider the Risk Factors identified and discussed in the profiled company's SEC and/or other government filings. Investing in securities, particularly microcap securities, is speculative and carries a high degree of risk.