Although originally invented for aerial and military use, innovators have expanded drone technology to other crucial applications: medical supply delivery and emergency services.
In 2020, the global medical drone industry grew by an unprecedented rate of 30.8%. From 2021 to 2028, the market is projected to more than QUINTUPLE – from $254.7 million to $1.4 billion – for an impressive annual average growth rate of 27.70%.1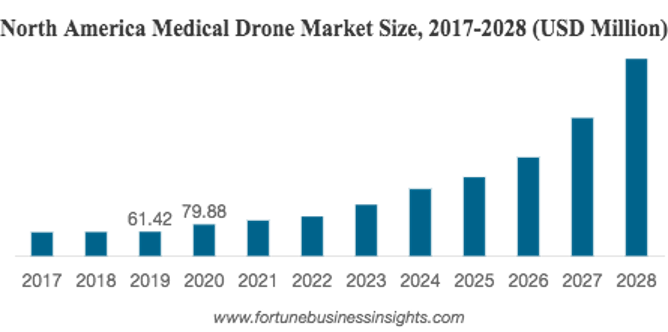 And even that growth rate might be too low…
During the COVID-19 pandemic, we learned drones could provide necessary medical supplies faster, cheaper, and safer than traditional methods.
Drones were instrumental in delivering vaccines across the globe, including to remote destinations and areas with limited access to healthcare.  They even provided up to a 50% cost savings over traditional transportation systems in some cases.3
Researchers at the University of Cincinnati have also developed a drone capable of providing telehealth services.  Since drones are small enough to navigate homes, but large enough to carry medicine and medical supplies, they're able to virtually connect patients to the physicians, integrating cameras and a display screen, to treat conditions remotely.4
Telehealth drone technology is likely to expand dramatically in the years to come, servicing all types of individuals from elderly patients who have trouble leaving their home, to new moms seeking assistance with their babies.
Pharmaceutical giants like Merck are also harnessing drone technology delivering routine medications –  from their manufacturing facilities straight to the end-users.5
And in disaster areas and war zones, drones are proving critical, since they can safely access places that ambulances or other emergency services can't. 
For example, drone technology is being deployed in the Russia-Ukraine war, not just for military purposes but for emergency medical services.  Drones are carrying everything from first aid kits, to plasma and blood, to other emergency service supplies, to soldiers directly on the front lines.   
During search and rescue missions, drones can also utilize artificial intelligence and thermal imaging technology to locate persons lost on land or at sea. 
In fact, a drone was able to deliver a defibrillator within minutes to a 71-year old man in Sweden who suffered a heart attack – far quicker than an ambulance could have arrived.  He's since made a full recovery, and credits the drone with saving his life, "I can't put into words how thankful I am to this new technology and the speedy delivery of the defibrillator. If it wasn't for the drone I probably wouldn't be here".6 
The medical use and life-saving capabilities of drones are endless…  the sky's the limit (literally). 
And the projected $1.4 billion market size may be too low.
1 https://www.forbes.com/sites/saibala/2021/03/06/drones-are-now-being-used-to-deliver-covid-19-vaccines/?sh=7d753f4926dc
2 https://www.forbes.com/sites/saibala/2021/03/25/telehealth-drones-healthcare-coming-soon-to-a-screen-near-you/?sh=1ea861b96caf
3 https://www.forbes.com/sites/saibala/2021/03/06/drones-are-now-being-used-to-deliver-covid-19-vaccines/?sh=7d753f4926dc
4 https://www.prnewswire.com/news-releases/for-the-first-time-in-medical-history-an-autonomous-drone-helps-save-the-life-of-a-cardiac-arrest-patient-301453744.html