"These are the BEST fundamentals for HIGHER uranium prices I've ever seen in the 40 years working in this industry."
- CEO of the #1 uranium royalty company in the world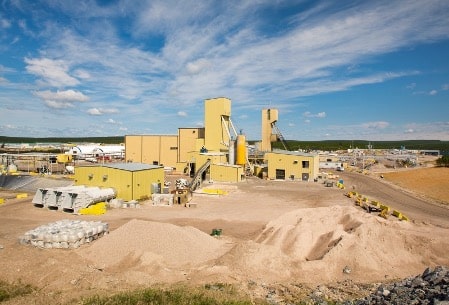 The Big Idea In 60 Seconds:
The only royalty stock that can earn cash from dozens of uranium mines at the same time
This 40-year uranium vet claims:
A supply crunch has arrived in uranium:In 2023, the world is consuming 50 million pounds more uranium than is being produced. New mines are needed but have not been incentivized at current spot prices.
Kazakhstan's uranium resources are being locked up:The world's leading uranium producer may end up exporting little supply beyond these Central Asian neighbors. .
Green energy goals pointing to nuclear: 100% reliance on intermittent renewables proving to be more unreliable than expected as they generate electricity, at best, 30% of the time. Nuclear energy is as safe and carbon-free as wind and solar but runs 24/7, rain or shine, night or day.
You're about to discover the only uranium company that can profit from dozens of uranium mines all at the same time. 
The company holds 18 interests…
But their goal is to become like Franco-Nevada… the gold royalty giant started in 1983… and owns interests in 437 gold mines.
Meaning, this uranium company needs to 20X their current holdings.
And they have time.
With little competition.
Theonly uranium royalty company in the world. 
They have launched an impressiveportfolio out of the gate.
And, they're still young, just 6 years old.
The stock trades on both the Canadian and US stock exchanges.
However, analysts have put forth a price target of $6 USD… which would represent a gain from its current Nasdaq share price.
H.C. Wainwright tagged this company with a price target of $6
That is not a guarantee, that's simply what outside analysts have projected based on their detailed valuations of the underlying assets and disclosed publicly on.
Today, you'll see what makes this not just an interesting company to potentially invest in… but one that's needed in this current energy environment.
The company was started by the owners and executives of one of the most well-known uranium companies in the world.
They have already secured multiple deals with interests in the largest global uranium companies like Cameco Corporation (NYSE: CCJ), France's Orano, and the African producer, Paladin Energy Limited (ASX: PDN).
After this brief, you'll understand why the  CEO of this company, calls this new bull market in uranium, "The best supply and demand fundamentals, and investment thesis, I've seen in 40 years", in the space.
Also, discover how uranium is cleaner and safer than oil and coal.
You'll see why this company provides the "royalty advantages" that have become so evident in the Base and Precious Metals industries.
Uranium's Decade-Long Bear Market Just Flipped
Low prices made it harder to finance and build mines to pull the uranium out of the ground.
Catalyst #1
Uranium Supply Squeeze Incoming
At the moment, the world consumes around 195 million pounds of uranium.
Currently, only 144 million pounds are being mined from Kazakhstan, China, Canada, and others.
Meaning, countries must make up more than 50 million shortfall from their precious inventories, and have been doing so for several years.
That can work for a time…
However, eventually, as inventories fell… and demand rose… more miners would need to produce to balance the market.
Over the next decade, countries will need more and more supply.
However, due to the bear market over the last decade, many miners went offline as low uranium prices didn't incentivize the needed investments to maintain production or start new operations.
Cameco is the largest publicly-traded uranium company in the world, and despite having the world's richest high-grade mines, both of their flagship mines were shut down for an extended period.
Until now…
In 2023, they're back up and producing from the McArthur River and Cigar Lake Mines (two operations that This company is fortunate to have among its 18 interests).
Restarting projects takes time, and Cameco is one of the fortunate ones with existing, permitted, and licensed operations with competitive costs on a global scale, so it is not surprising that Cameco is one of the early movers.
The challenge is the world probably needs 8-10 additional new mines, or restarts to close the gap on consumption. Unlike more efficient and mature commodities like copper, gold, or silver, the uranium market does not have a large queue of projects waiting in the wings to come online.
The real threshold for new production, requiring large capital investments and the heavy lift of permitting and licensing, is likely more than $75 or $80 per pound… and no price will shorten that regulatory lead-time on permitting and licensing.
We've hit $60… and prices are climbing.
In the 1970s when uranium was enjoying one of its early bull markets… we saw very similar setups as we did today.
Similar points are in play now.
Catalyst #2
Green Energy is needed NOW.
(Uranium is our largest carbon-free power source and the only one that can run 24/7)
July 2023 was the hottest month on record… and by a fair margin.
The warning bells for cleaner energy to help global warming have never been louder.
Uranium produces the cleanest energy with the maximum reliability. This "fog" coming out of a nuclear reactor isn't smoke and pollution…
It's purified water that has been converted to steam to drive a turbine in an electrical generator!
See…
Nuclear power is the cleanest, most effective energy there is.
Take a look:
The emissions from nuclear power are as low as wind.
Whether its carbon-free strengths or its 24/7 baseload supplies, nuclear is realizing a growing role in global energy policies.
As "baseload" power, it is the ideal complement to renewables when the wind is not blowing and the sun is not shining and its fuel cost advantages provide an ideal hedge against high natural gas prices… nuclear is always there, working behind the scenes.
It's nearly triple the reliability of wind and solar.
Bill Gates said in an interview, "Wind and solar just don't create the solution we need". Instead, Gates is backing nuclear power.
In terms of actual electricity produced, uranium fuel boasts the highest "energy density"…
It would take one ton of coal to equal the energy output of one small pellet of enriched uranium. That pellet is as small as your thumbnail.
Meaning, that you're using multiples less of uranium to produce nuclear power than you would burning coal to produce energy.
Top Royalty Projects:
This company holds royalty interests in the world's two top uranium mines, McArthur River and Cigar Lake, in the rich Athabasca Basin of Saskatchewan, Canada.
MCARTHUR RIVER:
World's #1 uranium mine – Ore grades 100X the world average, licensed for 25 million pounds per year. 2023 production targeting 15 million pounds. Production had been shut in as part of Cameco's production cutbacks but returned to operation in 2022.
This company swooped in to invest while the mine lay dormant in 2021. This interest and that of Cigar Lake were purchased from Reserve Oil and Minerals of Albuquerque, New Mexico.
They were an early exploration partner in the Athabasca Basin in the 1980s and were willing to take cash and shares in this company in exchange for their interest.
Perfect timing, as in February 2022, the company announced they reopened the mine to produce.
At an annual rate of 18 million pounds and a $70 per pound market, this interest will cash flow over $1 million per year (1% GRR on 9% share).
CIGAR LAKE: 
Cigar Lake/Waterbury Lake was the top-producing uranium mine in the world in 2022 with McArthur River only returning to operation in Q4 2022.
It is the world's second-highest-grade mine and produced 14% of the world's total uranium in 2022. 
Cigar faced operating challenges with production output coming in fits and starts. This is now fully behind owners/operators and is producing 18 million pounds in 2023.
Operating costs for the mine are at just $15.98/lb. This also makes Cigar Lake one of the lowest-cost uranium projects around.
Our company holds a Net Profit Interest royalty on Cigar, which means that it makes money on the net income generated from the uranium mined after all exploration and development costs are deducted. Meaning, after the expense bucket is drawn down, this company  takes a 10-20% cut of the bottom line on a 3.75% share of the project.
That's for the life of the mine (including any expansions or extensions of the project.)
If and when uranium prices soar, those royalty checks will grow.
Cigar Lake could be generating $5M in annual cash flow within 3 years, but it all depends on how much is produced by the owner/operators and what prevailing prices they are receiving on the sale of that production.
Alongside McArthur, both mines have the reserves and licensed capacity to supply 17% of the projected global uranium demand.
As we see more nuclear reactors go online… and countries scrambling to find new uranium sources in the West… these mines will continue to be top in class and become increasingly important in the global uranium space.
These are just 2 of the 18 interests the company holds.
Sign up with your email address to learn more about this royalty company's uranium interests, and be the first to receive updates on the company and the sector.
Legal Notice: This website is owned and hosted by Market Tactic Media Ltd. Articles appearing on this website should be considered paid advertisements. Market Tactic Media Ltd. and its owners, managers, employees, and assigns (collectively "the Website Host") is often paid by marketing companies to host websites on which articles profiling public companies are published. The articles on this website are not, and should not be construed to be, offers to sell or solicitations of an offer to buy any security. Neither the articles on this website nor the Website Host purport to provide a complete analysis of any company or its financial position. The Website Host is not, and does not purport to be, a broker-dealer or registered investment adviser. The articles on this website are not, and should not be construed to be, personalized investment advice directed to or appropriate for any particular investor. Any investment should be made only after consulting a professional investment advisor and only after reviewing the financial statements and other pertinent corporate information about the company. Further, readers are advised to read and carefully consider the Risk Factors identified and discussed in the profiled company's SEC and/or other government filings. Investing in securities, particularly microcap securities, is speculative and carries a high degree of risk.